Scuba Diving in Mexico: Diving Cenote Ponderosa (Watch Video)
In this exclusive video for Scubaverse and Dive Travel Adventures, join Richard and Hayley from Black Manta Photography as they explore Cenote Ponderosa. This Cenote is one of the most popular on the Yucatan Peninsula due to the stunning pockets of natural light that flood through the maze of caves.
Cenote Ponderosa was the first of four Cenotes that Black Manta Photography had the chance to dive, before spending the rest of the time diving with the Bull Sharks at Playacar. Check back soon for the rest of the videos!
You will be able to read about Richard and Hayley's trip to Mexico when they share their stunning photos in a forthcoming issue of Dive Travel Adventures Magazine soon!
---
Visit Pro Dive International to find out more!
For more from Richard and Hayley visit www.blackmantaphotography.com.
BLUE EARTH – Future Frogmen Podcast Series – The Next Generation of Ocean Stewards: Lauren Brideau
A series of conservation educational podcasts from Future Frogmen, introduced by Jeff Goodman.
The Next Generation of Ocean Stewards: Lauren Brideau
We have a new host, Dr. Colleen Bielitz, and today we'll be interviewing a recent college graduate as part of our once-a-month episode that focuses on students: the next generation of conservationists, researchers, and activists.
What are the next generation of ocean stewards doing to protect our Blue Earth? Join us as we find out by speaking to Lauren Brideau, a recent graduate of Southern Connecticut State University. Lauren started as an undeclared major but soon found her calling, now she is part of a research team conserving life below water. She is a prime example that if you want to defend our oceans and the creatures that depend on the sea to survive, now is the time to become part of the solution.
---
Richard E Hyman Bio
Richard is the Chairman and President of Future Frogmen.
Born from mentoring and love of the ocean, Richard is developing an impactful non-profit organization. His memoir, FROGMEN, details expeditions aboard Jacques-Yves Cousteau's famed ship Calypso.
Future Frogmen, Inc. is a nonprofit organization and public charity that works to improve ocean health by deepening the connection between people and nature. They foster ocean ambassadors and future leaders to protect the ocean by accomplishing five objectives.
---
You can find more episodes and information at www.futurefrogmen.org and on most social platforms @futurefrogmen.
Caribbean Conservation in Action: Tagging Turtles in the BVI
For centuries, the Japanese artisans have used hawksbill turtle shells to make a variety of trinkets such as eyewear, combs and cigar boxes. By the 1800's, a fad had spread to the America's and Europe to obtain hawksbill shells and green turtle soup had become a delicacy around the world. It wasn't until the late 1970s when the Convention on International Trade in Endangered Species of Wild Fauna and Flora (CITES), the body that regulates cross-border trade in wildlife banned the international commercial trade of sea turtles and in 1978, the United States banned the intentional killing of all sea turtles under the Endangered Species Act.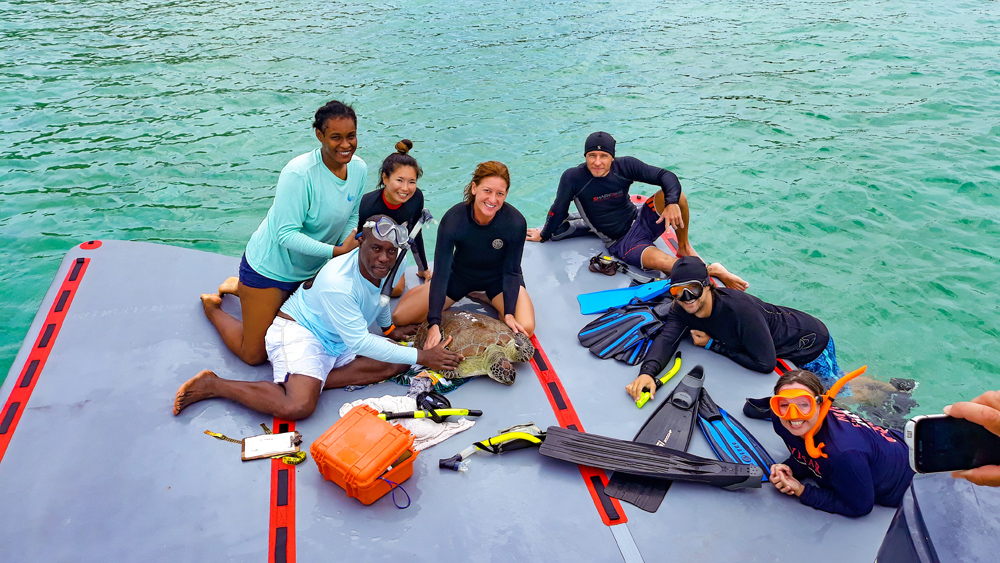 However, In the late 1990s and early 2000s, Japan tried to lift restrictions under CITES to reopen the trade of hawksbill turtle shells with Cuba. Because sea turtles are a regionally shared resource due to their highly migratory range over an individual's lifetime, many Caribbean countries became concerned that Japan and Cuba's proposal would undermine some of the long-standing conservation efforts that had already been implemented. This prompted the United Kingdom to launch the Turtles of the UK Overseas Territories (TCOT) project in 2001 to address critical gaps in the knowledge of marine turtle populations found in all their Caribbean territories (Anguilla, Bermuda, British Virgin Islands, Cayman, Montserrat and Turks & Caicos Islands).
Although the BVI was already monitoring nesting leatherback sea turtles, this 3-year UK-funded project brought a new dimension to turtle monitoring to the BVI and other UK Territories. In-water turtle tagging of foraging populations commenced which identified healthy populations of juvenile to sub-adult (teenage) green and hawksbill turtles in the BVI. Through genetic sampling of those turtles tagged, green turtles were identified as coming from as far away as Ascension Island, Venezuela and Costa Rica with hawksbills coming from Brazil, Barbados, and Cuba. Subsequently, some of the tagged turtles have migrated from the BVI on to their adult foraging grounds and travelled as far as Nicaragua, Bonaire and Guadeloupe.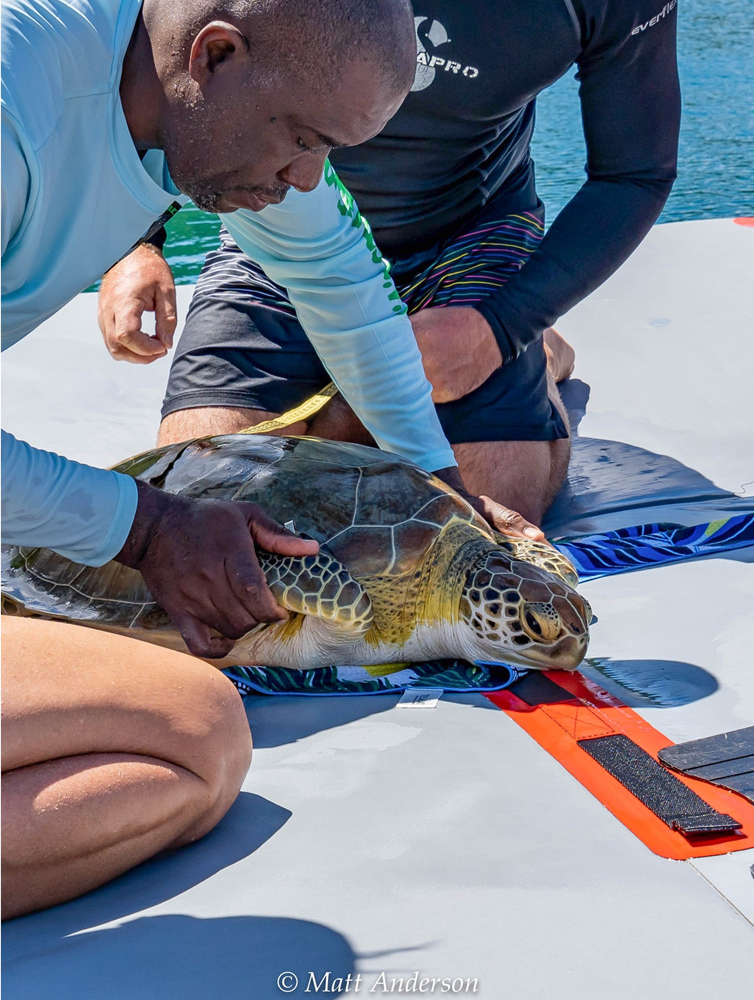 Although the TCOT project ended many years ago, in-water turtle tagging of foraging populations continued over the years. Now, with an extensive baseline of information and a growing need for changes in local sea turtle management, the BVI was awarded a Darwin Plus grant worth over US$300k from the UK's Overseas Territories Environment & Climate Fund in June 2020. This newly implemented STEEL Project (Sustainable turtles, environments, economies & livelihoods) is aimed to ramp up tagging efforts to better understand changes in the status of BVI turtles based on nearly 20 years of data collected. Additionally, foraging turtle habitats will be assessed on how to build resiliency in areas that were impacted by the 2017 hurricane events. An educational programme to provide the community with a better local understanding of turtle conservation will be implemented and, using the MCS Community Voice Method (CVM) of engagement, the project will engage BVI communities to develop new legislation recommendations and a conservation action plan to safeguard BVI's turtle populations for future generations.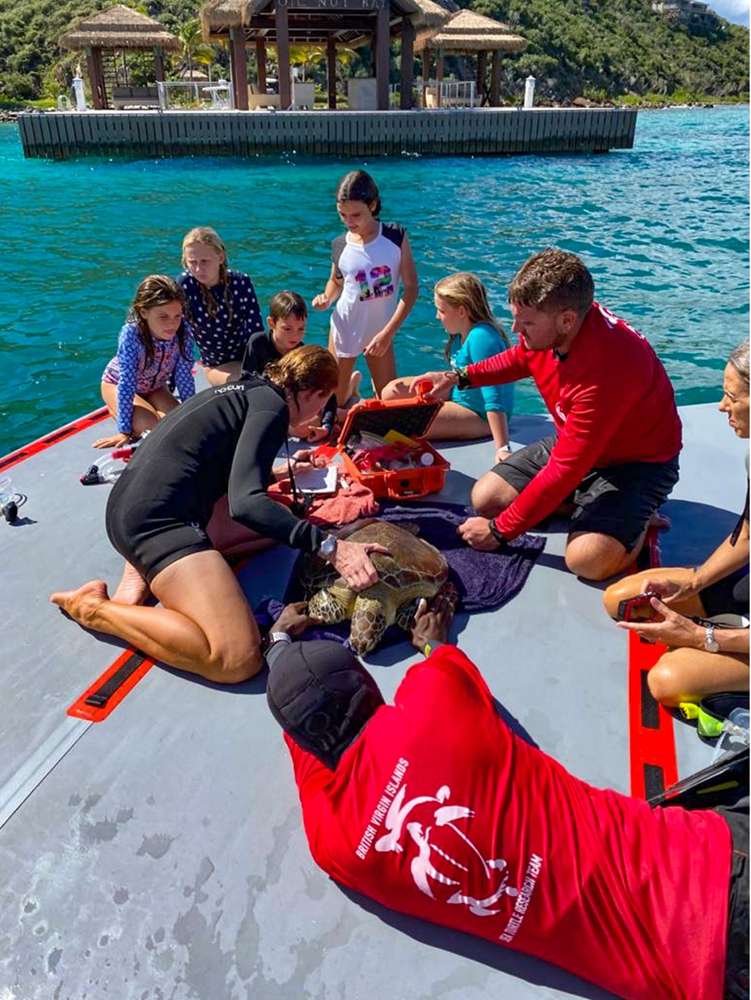 The STEEL Project is being led by the Marine Conservation Society UK alongside local organisation, the Association of Reef Keepers (ARK) and partnerships with the BVI Government's Department of Agriculture and Fisheries and the Ministry of Natural Resources, Labour and Immigration. Additionally, local dive and tour operators such as Sail Caribbean Divers are participating in the project by providing boats and assisting local turtle scientists in capturing, tagging and releasing of sea turtles.
For more information see www.bviark.org
This is the perfect start to your 2021 diving season… and at an incredible lead-in price of just £885 per person.
Jump on board the latest addition to the Emperor fleet and enjoy diving the famous sites of the Red Sea with this fantastic special offer. This itinerary takes in the wonderful South & St Johns from 26 February – 05 March 2021.  
Subject to availability – limited flight seats at this price so don't delay!
Call Diverse Travel on 01473 852002 or email info@diversetravel.co.uk to book your spot!
More
Less