Scientists investigate global spread of stinging jellyfish
"Get it off of me! Get it off of me!" shrieked Mary Carman, a marine ecologist at Woods Hole Oceanographic Institution (WHOI) as she flailed knee deep in the bath-like water of Farm Pond on Martha's Vineyard.
She was observing tunicates (also known as sea squirts) in the quiet coastal pond, garbed in a full wetsuit and snorkeling gear as she hovered through the shallow grassy water. She was well covered except for parts of her face, including her lips which became a landing spot for a clinging, stinging jelly.
"The sting was one of the most painful things I've experienced in my life—I liken it to being injected by five hypodermic needles simultaneously," she said.
Despite the ensuing pain and "two days of nausea," Carman has been back in Farm Pond on several occasions. But instead of looking at tunicates, she's been collecting samples of the toxic jellies, scientifically known as Gonionemus sp. In the past several years, she, along with WHOI biologist Annette Govindarajan and their colleagues, has been tracking these clinging jellyfish which, according to a new study, appear to be expanding throughout the Cape and Islands region.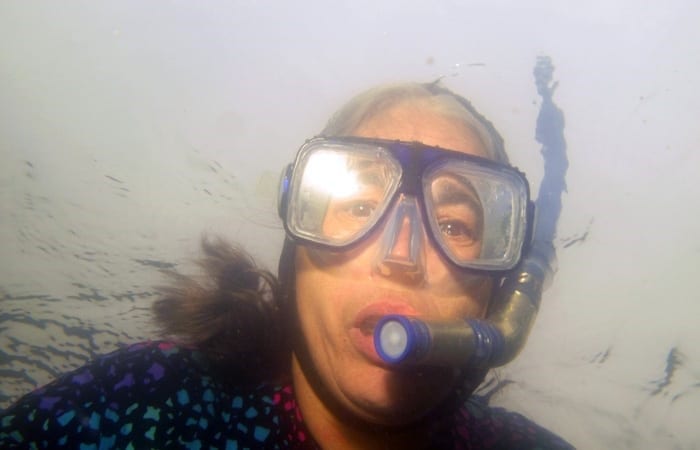 "
In recent years, we've started to see these jellies show up in a number of major coastal ponds across the island in addition to Farm Pond
," said Carman, the lead author of the study. "
Confirmed locations have included Sengekontacket Pond, Stonewall Pond, and Lake Tashmoo," said Carman, the lead author of the study. "Now, we're seeing a new invasion in Edgartown Great Pond, the largest great pond on the island's south shore
."
Secret hitchhikers
The toxic invader looks like a clear, medium-sized coat button collared with several dozen threadlike tentacles. The tentacles sport adhesive-like pads that allow the animal to stick to eelgrass, seaweeds—and yes, lips too—before emitting venomous neurotoxins that can cause extreme pain, breathing difficulties, and blisters. Their origin is unclear.  The jellyfish were abundant in a few New England locations, including Eel Pond in Woods Hole, Mass. in the late 1800s until about 1930, when they all but disappeared after a slime mold decimated most of the region's eelgrass. Carman and Govindarajan are unaware of any regional reports of stings during this period, although stings had been reported from the Sea of Japan.
The jellies resurged on Cape Cod in the 1990s, with the first documented sting report occurring in 1990 in Waquoit Bay. The first documented Martha's Vineyard sting occurred in 2006 and it appears that the population has been expanding there ever since. According to the study, in one of the newly colonized sites (Edgartown Great Pond), jellyfish were clustered in a cove with a public boat ramp, suggesting that transport on boat hulls could be promoting their distribution around the island. "The jellyfish have life cycle stages that can be less than a millimeter in size and that adhere to surfaces, so they could very easily be hitchhiking on boats without being seen," said Govindarajan.
The study points to another factor possibly contributing to the spread: cloning. This particular species is known to have the ability to make multiple copies of itself during various stages of asexual reproduction. "As we analyzed the sex ratio of our samples, we discovered that all of the jellies collected at Edgartown Great Pond were male," said Govindarajan. "This is consistent with the possibility that this particular population is clonal, and that asexual reproduction is contributing to their spread. But we need more information on the dynamics of these stages, such as how long they can persist and what factors trigger them to produce jellyfish."
Across the pond
According to the researchers, the toxic jelly outbreak isn't just a local phenomenon: the animals have been found along the coasts of Russia, Japan, China, the Mediterranean, Argentina, and most recently, along Sweden's rocky west coast, where just last summer, a number of bathers were stung. That outbreak was documented in another study in which Govindarajan and colleagues from Sweden compared DNA sequences of clinging jellies collected at the site with those found along the US East Coast and other parts of the world, and discovered some genetic similarities.
"We found some common genetic variants occurring in disparate locations where stings have been reported," said Govindarajan. "We're not sure what's triggering these toxic outbreaks – multiple factors may be at play, but human-mediated transport of the tiny, cryptic life stages may have a role globally as well as locally."
Björn Källström, a marine biologist at Gothenburg Marine Biological Laboratory and co-author of the study, says underwater photographers have observed clinging jellies in Sweden in the past, but last summer marked the first time that people there reported being stung.
"One factor may have been the really hot and dry summer we had last year, which caused water temperatures at the site to surge 3°C above seasonal averages," he said. "Previous studies have suggested that when ocean temperatures are warmer, clinging jellyfish production is triggered. And when they increase in numbers, more people are likely to encounter and get stung by them."
Avoiding hot spots
With a host of possible factors at play—anthropogenic transport, warmer ocean temperatures, and the comeback of eelgrass—Govindarajan, Carman, and their international colleagues plan to continue studying the stinging creatures to better understand the intricacies of the spread.
Källström feels that in the near term, the research can help bathers avoid areas where the jellies are likely to disperse.
"Climatologist have predicted another hot, dry summer in Sweden, which means that we could see another outbreak over the next few months," he said. "And this time, we suspect it may spread to other locations along the coast. So, we'll be developing models to help predict where the jellies may go, so people know which areas to stay away from."
Govindarajan agrees. "The more we can learn about how they're expanding and the types of conditions the jellies are thriving in, the more we'll be able to identify where the hot spots are and educate the public."
Gonvindarajan says the community can also help the monitoring effort by reporting sightings of clinging jellies to jellyfish@whoi.edu—although she cautions people to be careful, and to not handle the jellies.
For more information about the work of WHOI please visit their website by clicking here.
Diving below the waves of the Western Cape, South Africa – Windmill Beach (Watch Video)
Head under the waves of False Bay and explore the incredible diversity that is found along the Western Cape. The bay has popular dive spots from diving amongst the biodiverse underwater kelp forests to jumping in with the playful and friendly cape fur sealions (Arctocephalus pusillus). The bay along with the rest of the South Africa coast is known for the range of shark species that are found from the shallow coastal shores out into the open oceans. The coast is also home to numerous endemic shark species such as puffadder shyshark (Haploblepharus edwardsii) and Pyjama shark.
Situated a short drive out of Simonstown is the shore dive at Windmill beach. A short swim over the sand and through the large boulders you enter the incredibly diverse and colourful kelp forests (Ecklonia maxima), a species that can grow up to 12m tall. Life is found in abundance from the base of the kelp where many sea urchins and species such as abalone can be seen then heading into the canopy many shoaling fish species can be observed.
Diving with the local dive club – Cape Town Dive Centre.
---
Follow Jake aka JD Scuba on the YouTube channel @Don't Think Just Blog.
Fourth Element to make diving tools from recycled PPE
Fourth Element has partnered with recycling and repurposing experts, Waterhaul, to retask the mask; turning single-use plastics into the tools we use in pursuit of underwater adventure. Face masks and other items of PPE from hospitals are melted down into blocks, sterilising the material which fourth element purchases, recycle and transforms.
These cave line markers are the first of what fourth element hopes will be many products using this waste material to give it a new life beyond protecting the lives of our frontline healthcare workers. Each marker re-uses the equivalent of two disposable masks. Waste is given a new direction.
The end product is completely safe. The PPE is heat treated by the hospital: the plastic is heated to high temperatures multiple times; first to make the blocks within the recycling process, and also whilst injection moulding the parts.
What makes this OceanPositive?
In the UK alone, 58 million single-use plastic face masks are thrown away every day, littering landfills and polluting the environment. Globally, we use 129 billion per month – that's enough to wrap around the world 550 times! Over the last 12 months, a recorded 1.5 billion have entered the ocean, disrupting our ecosystem and endangering marine life across the globe. And that's just what has been recorded.
These lines markers are made from recycled PPE, each one saving two masks from entering landfill or our oceans. Part of fourth element's Zero Waste and Zero Plastic initiatives; to re-purpose as much plastic as possible and find new uses for products at the end of their lives.
"We believe that this is the way," said Jim Standing, co-founder of fourth element. "We are all going to have to tackle the challenges of a post covid world and one of these will be how we deal with the waste we have created as part of keeping ourselves and in particular, our frontline workers protected. We intend to play our part."
For more information visit the Fourth Element website by clicking here.
Explore the amazing triangle of Red Sea Reefs - The Brothers, Daedalus and Elphinstone on board the brand new liveaboard Big Blue.  With an option to add on a week at Roots Red Sea before or after. 
Strong currents and deep blue water are the catalysts that bring the pelagic species flocking to these reefs. The reefs themselves provide exquisite homes for a multitude of marine life.  The wafting soft corals are adorned with thousands of colourful fish. The gorgonian fans and hard corals provide magnificent back drops, all being patrolled by the reef's predatory species.
£1475 per person based on double occupancy.  Soft all inclusive board basis, buffet meals with snacks, tea and coffee always available.  Add a week on at Roots Red Sea Resort before or after the liveaboard for just £725pp.  Flights and transfers are included.  See our brochure linked above for the full itinerary.
This trip will be hosted by The Scuba Place.  Come Dive with Us!
Call 020 3515 9955 or email john@thescubaplace.co.uk
www.thescubaplace.co.uk
More
Less