Caribbean Conservation in Action: Tagging Turtles in the BVI
For centuries, the Japanese artisans have used hawksbill turtle shells to make a variety of trinkets such as eyewear, combs and cigar boxes. By the 1800's, a fad had spread to the America's and Europe to obtain hawksbill shells and green turtle soup had become a delicacy around the world. It wasn't until the late 1970s when the Convention on International Trade in Endangered Species of Wild Fauna and Flora (CITES), the body that regulates cross-border trade in wildlife banned the international commercial trade of sea turtles and in 1978, the United States banned the intentional killing of all sea turtles under the Endangered Species Act.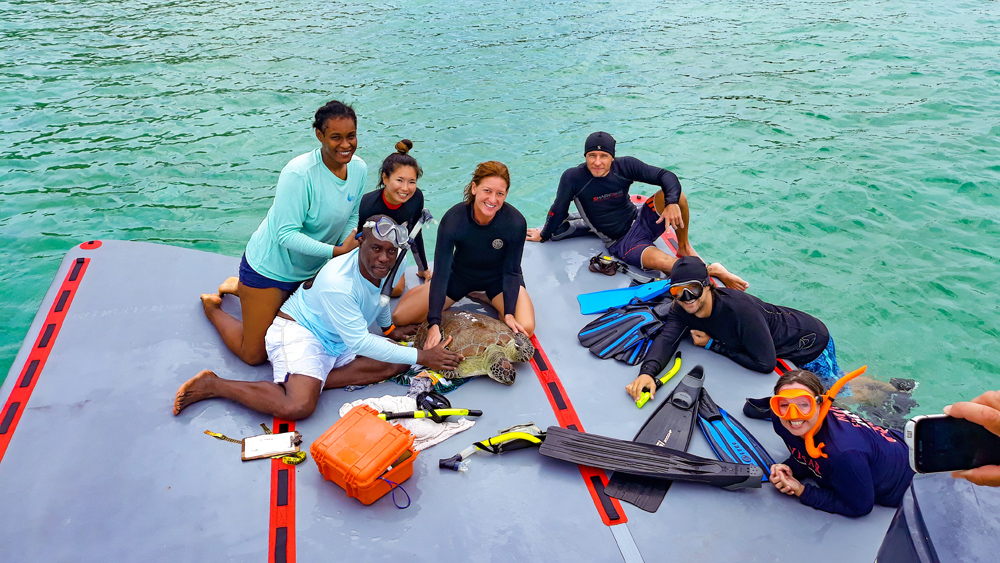 However, In the late 1990s and early 2000s, Japan tried to lift restrictions under CITES to reopen the trade of hawksbill turtle shells with Cuba. Because sea turtles are a regionally shared resource due to their highly migratory range over an individual's lifetime, many Caribbean countries became concerned that Japan and Cuba's proposal would undermine some of the long-standing conservation efforts that had already been implemented. This prompted the United Kingdom to launch the Turtles of the UK Overseas Territories (TCOT) project in 2001 to address critical gaps in the knowledge of marine turtle populations found in all their Caribbean territories (Anguilla, Bermuda, British Virgin Islands, Cayman, Montserrat and Turks & Caicos Islands).
Although the BVI was already monitoring nesting leatherback sea turtles, this 3-year UK-funded project brought a new dimension to turtle monitoring to the BVI and other UK Territories. In-water turtle tagging of foraging populations commenced which identified healthy populations of juvenile to sub-adult (teenage) green and hawksbill turtles in the BVI. Through genetic sampling of those turtles tagged, green turtles were identified as coming from as far away as Ascension Island, Venezuela and Costa Rica with hawksbills coming from Brazil, Barbados, and Cuba. Subsequently, some of the tagged turtles have migrated from the BVI on to their adult foraging grounds and travelled as far as Nicaragua, Bonaire and Guadeloupe.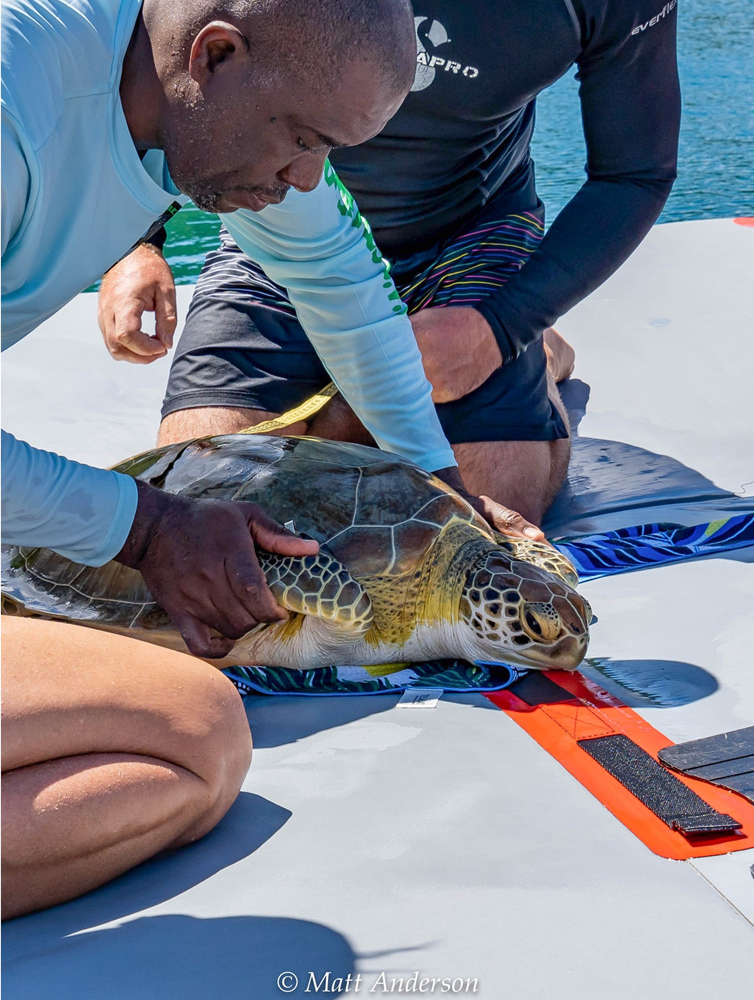 Although the TCOT project ended many years ago, in-water turtle tagging of foraging populations continued over the years. Now, with an extensive baseline of information and a growing need for changes in local sea turtle management, the BVI was awarded a Darwin Plus grant worth over US$300k from the UK's Overseas Territories Environment & Climate Fund in June 2020. This newly implemented STEEL Project (Sustainable turtles, environments, economies & livelihoods) is aimed to ramp up tagging efforts to better understand changes in the status of BVI turtles based on nearly 20 years of data collected. Additionally, foraging turtle habitats will be assessed on how to build resiliency in areas that were impacted by the 2017 hurricane events. An educational programme to provide the community with a better local understanding of turtle conservation will be implemented and, using the MCS Community Voice Method (CVM) of engagement, the project will engage BVI communities to develop new legislation recommendations and a conservation action plan to safeguard BVI's turtle populations for future generations.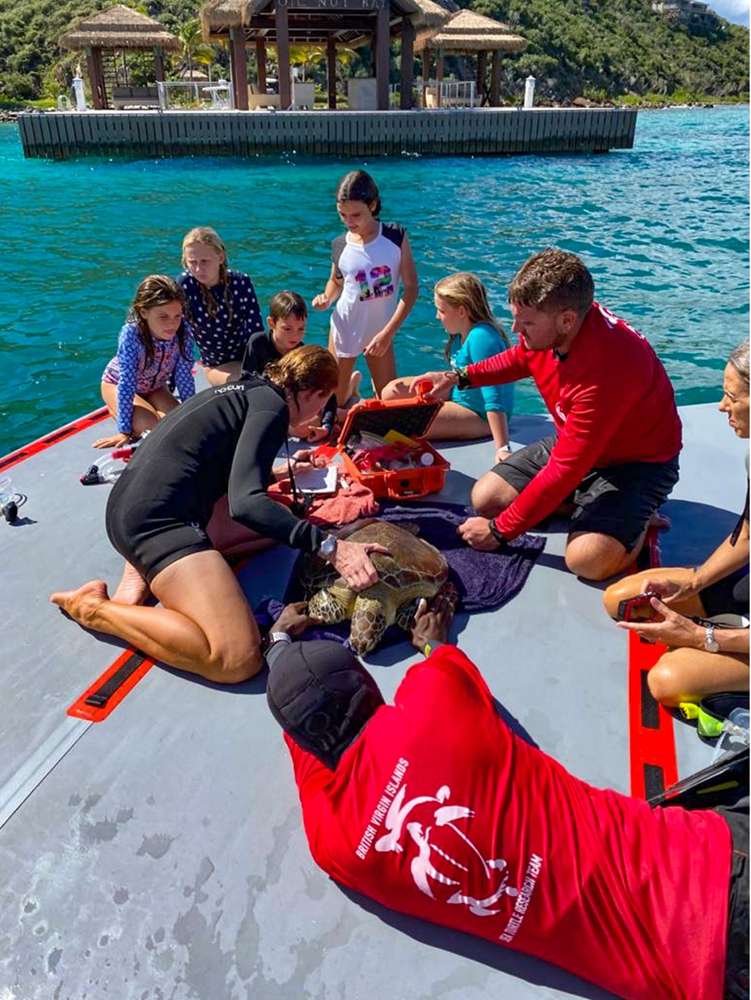 The STEEL Project is being led by the Marine Conservation Society UK alongside local organisation, the Association of Reef Keepers (ARK) and partnerships with the BVI Government's Department of Agriculture and Fisheries and the Ministry of Natural Resources, Labour and Immigration. Additionally, local dive and tour operators such as Sail Caribbean Divers are participating in the project by providing boats and assisting local turtle scientists in capturing, tagging and releasing of sea turtles.
For more information see www.bviark.org
Help protect our marine environment with BSAC's new Shore Surveyor course
BSAC has partnered with Scottish environmental charity, Seawilding, to offer everyone the chance to help champion the marine environment with the new Shore Surveyor course.
Delivered by eLearning, Shore Surveyor has been designed to engage people, particularly children and young people, in the issues that face our precious marine life. With a focus on the UK's native oyster and seagrass beds, this eLearning course equips participants with the skills needed to help identify seashore-based habitats and record what they find.
Shore Surveyor is open to everyone, whether they are BSAC members or not.
Working with Seawilding, the UK's first community-led native oyster and seagrass restoration project, Shore Surveyor participants will also learn about the native oyster and seagrass beds and the issues they currently face.
Both the UK's native oyster and seagrass habitats have experienced a serious decline over the past 200 years, resulting in an estimated 95% reduction in populations. The new Shore Surveyor course ties directly into BSAC's major new marine project, Operation Oyster, which aims to protect and restore native oyster habitats around the UK.
By the end of the course, participants can become 'citizen scientists' by helping to locate and record seashore areas where current or potential native oysters or seagrass populations are present. This data can then be fed into the National Marine Records Database to help scientists studying our coast as well as support future underwater surveys.
Seawilding CEO, Danny Renton, said he was delighted to partner with BSAC on the Shore Surveyor course.
"Our seas are in peril, and it's so important to engage families and especially young people, in the wonders of the sea and to engage them in marine conservation. The Shore Surveyor course is the first step to get involved in initiatives like seagrass and native oyster restoration and to nurture a new generation of ocean activists, environmentalists and marine biologists."
BSAC's Chief Executive, Mary Tetley, said the new Shore Surveyor course was also part of BSAC's drive to get more young people actively involved in marine life protection. 
"This new course not only explores the threats faced by our precious oceans but also empowers people to get directly involved.
"From a family visit to the beach to a club diving or snorkelling trip, the skills learned on Shore Surveyor can be invaluable to anyone, young or not so young, who wants to make a difference to our under-pressure marine life."
One of the first participants of the Shore Surveyor course, 16-year-old Lili, from North Wales, has recently put her new found surveying skills into action while on her summer holidays.
"I loved it because it was simple and easy to use and remember," said Lili. "All ages will enjoy it – young children, teenagers, parents, even grandparents.
"There is a bit of eLearning to do before you start but that is easy to do, and the course really helps you when you go out and see everything for real on the beach!"
Shore Surveyor is open to children aged eight up to adults and costs £20. For more information and to book onto the eLearning course, go to bsac.com/shoresurveyor.
For more information on Operation Oyster and other ways you can get involved, go to bsac.com/operationoyster
Images: Seawilding
PADI and Seiko Prospex unite to help create the world's largest underwater cleanup for ocean change
PADI® and Seiko Prospex are teaming up to help marine conservation charity Oceanum Liberandum host the world's largest underwater cleanup event in Sesimbra, Portugal on 24 September 2022.
Taking place during AWARE Week, the event aims to bring together 700 divers to clean up the coastline for a 12-hour period and is anticipated to host the most divers ever on record taking part in one consecutive underwater cleanup effort.  Participating divers and dive centres from around the region will come together to collect marine debris–which will ultimately be logged into PADI's Dive Against Debris database.
"Our database is the world's largest in terms of capturing seafloor debris data, which has already helped drive two pioneering scientific papers being used to create new waste management policies," says Emma Daffurn, CSR Specialist for PADI Worldwide. "More than 250 million tons of plastic are estimated to make its way into our ocean by 2025 and the environmental damage caused by plastic debris alone is estimated at $13 billion US a year. This world record attempt further highlights the important role divers play in reporting, removing and advocating to stop marine debris at its source."
PADI is proud to have Seiko Prospex on board as the sponsor of the marine debris program and a partner for this world record attempt. Their support is critical to advancing the PADI Blueprint for Ocean Action, and protecting the global ocean now and for generations to come.
"Helping to raise awareness and take an active role in environmental conservation has become one of Seiko Prospex's missions," says Miguel Rodrigues, Sales & Marketing Director for Seiko Prospex. "We seek, whenever possible, to support events that have ocean conservation at their core, and we are very honored to sponsor the world's largest underwater cleanup. We are proud to contribute to a more sustainable future where humans are an integral part of nature."
Those who want to volunteer to take part in the world record attempt can learn more and sign up at oceanumliberandum.pt/en/Largest-Underwater-cleanup-in-the-World/. The 15 euro registration fee will go towards supporting dive centres with boats, facilities and air bottle logistics.
"We're thrilled to have the chance to work with Seiko in supporting the largest underwater cleanup event so that we can mobilise Ocean TorchbearersTM to take action to protect what they love, capture more essential data for policy changes, and continue the wave of momentum in creating positive ocean change," says Daffurn.
For more from PADI, visit www.padi.com
Save up to 1/3 off a trip to Indonesia! Your chance to dive Bali, Komodo and Raja Ampat aboard the NEW luxury MY Emperor Harmoni for less! Launching in September 2022. Emperor Harmoni is Emperor Divers Indonesia's brand new liveaboard. Built of Sulawesi Ironwood and offering a truly new experience to liveaboard holidays, experience a true sense of sailing the Indonesian seas in freedom, style, comfort and confidence with her two engines. Enjoy spacious diving and relaxation areas or relax with a massage on deck. Example price based on Bali departure to Komodo WAS £2900 / NOW from just £1995* per person based on sharing a twin luxury cabin including: 1 night in Bali before the boat departure with airport transfers One way flight from Labuan Bajo to Bali after the liveaboard with 20kgs baggage 7 nights onboard MY Emperor Harmoni with 3 meals a day, afternoon snacks, unlimited drinking water, tea & coffee All diving with guide, cylinders & weights, Marine Park & Port Fees Free Nitrox 1 cocktail party on a local island (weather allowing) Return airport transfers * Price excludes international flights, these can be quoted at the time of reservation Booking deadline: Subject to availability. Other Dates available - book before 30 September! Call Diverse Travel on 01473 852002 or email info@diversetravel.co.uk.
More
Less