Caribbean Conservation in Action: Tagging Turtles in the BVI
For centuries, the Japanese artisans have used hawksbill turtle shells to make a variety of trinkets such as eyewear, combs and cigar boxes. By the 1800's, a fad had spread to the America's and Europe to obtain hawksbill shells and green turtle soup had become a delicacy around the world. It wasn't until the late 1970s when the Convention on International Trade in Endangered Species of Wild Fauna and Flora (CITES), the body that regulates cross-border trade in wildlife banned the international commercial trade of sea turtles and in 1978, the United States banned the intentional killing of all sea turtles under the Endangered Species Act.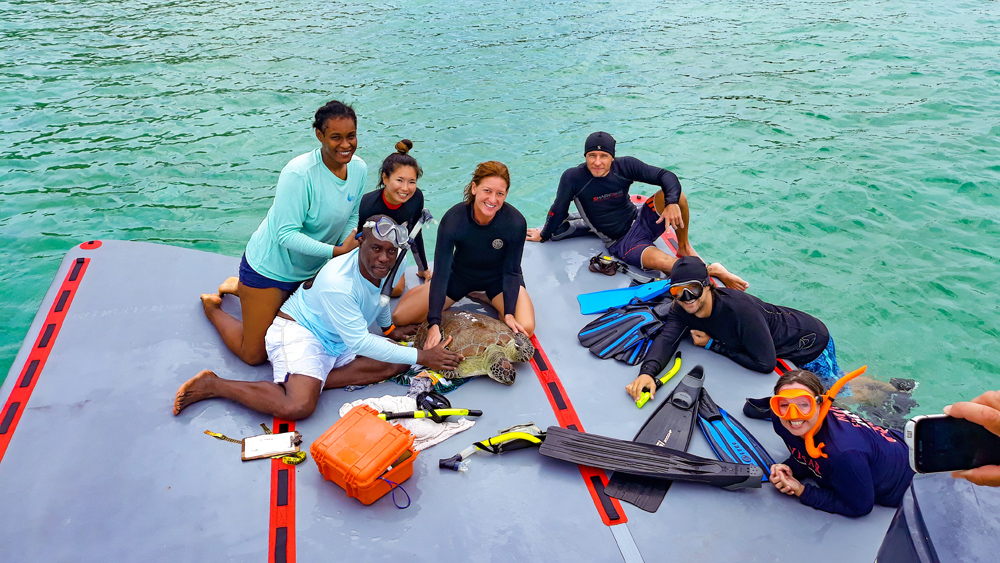 However, In the late 1990s and early 2000s, Japan tried to lift restrictions under CITES to reopen the trade of hawksbill turtle shells with Cuba. Because sea turtles are a regionally shared resource due to their highly migratory range over an individual's lifetime, many Caribbean countries became concerned that Japan and Cuba's proposal would undermine some of the long-standing conservation efforts that had already been implemented. This prompted the United Kingdom to launch the Turtles of the UK Overseas Territories (TCOT) project in 2001 to address critical gaps in the knowledge of marine turtle populations found in all their Caribbean territories (Anguilla, Bermuda, British Virgin Islands, Cayman, Montserrat and Turks & Caicos Islands).
Although the BVI was already monitoring nesting leatherback sea turtles, this 3-year UK-funded project brought a new dimension to turtle monitoring to the BVI and other UK Territories. In-water turtle tagging of foraging populations commenced which identified healthy populations of juvenile to sub-adult (teenage) green and hawksbill turtles in the BVI. Through genetic sampling of those turtles tagged, green turtles were identified as coming from as far away as Ascension Island, Venezuela and Costa Rica with hawksbills coming from Brazil, Barbados, and Cuba. Subsequently, some of the tagged turtles have migrated from the BVI on to their adult foraging grounds and travelled as far as Nicaragua, Bonaire and Guadeloupe.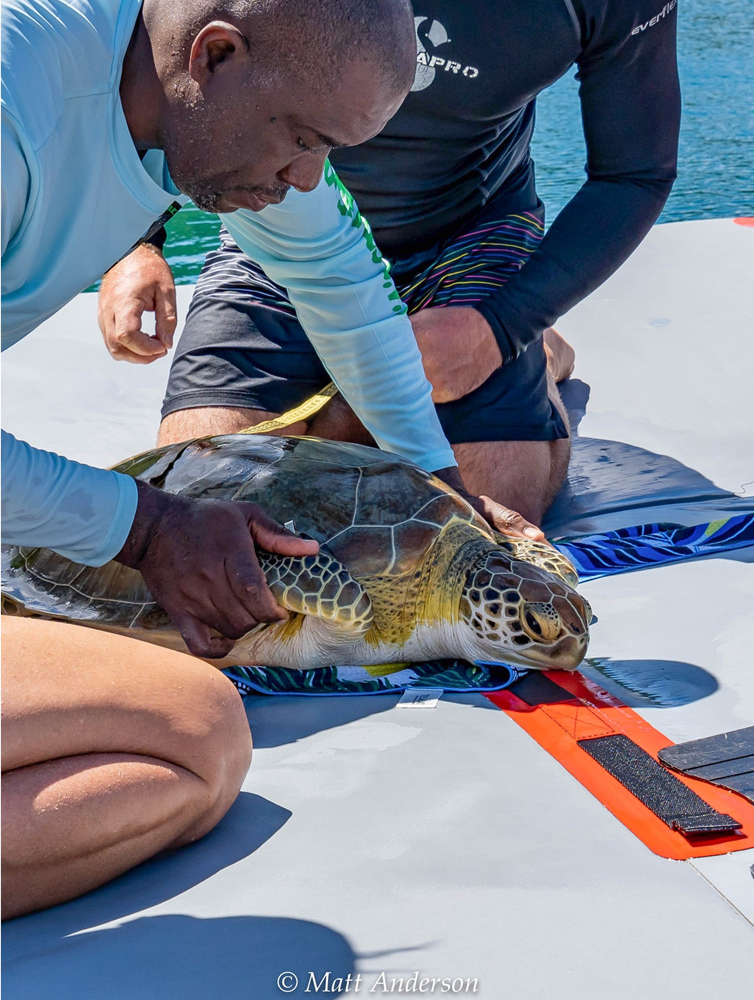 Although the TCOT project ended many years ago, in-water turtle tagging of foraging populations continued over the years. Now, with an extensive baseline of information and a growing need for changes in local sea turtle management, the BVI was awarded a Darwin Plus grant worth over US$300k from the UK's Overseas Territories Environment & Climate Fund in June 2020. This newly implemented STEEL Project (Sustainable turtles, environments, economies & livelihoods) is aimed to ramp up tagging efforts to better understand changes in the status of BVI turtles based on nearly 20 years of data collected. Additionally, foraging turtle habitats will be assessed on how to build resiliency in areas that were impacted by the 2017 hurricane events. An educational programme to provide the community with a better local understanding of turtle conservation will be implemented and, using the MCS Community Voice Method (CVM) of engagement, the project will engage BVI communities to develop new legislation recommendations and a conservation action plan to safeguard BVI's turtle populations for future generations.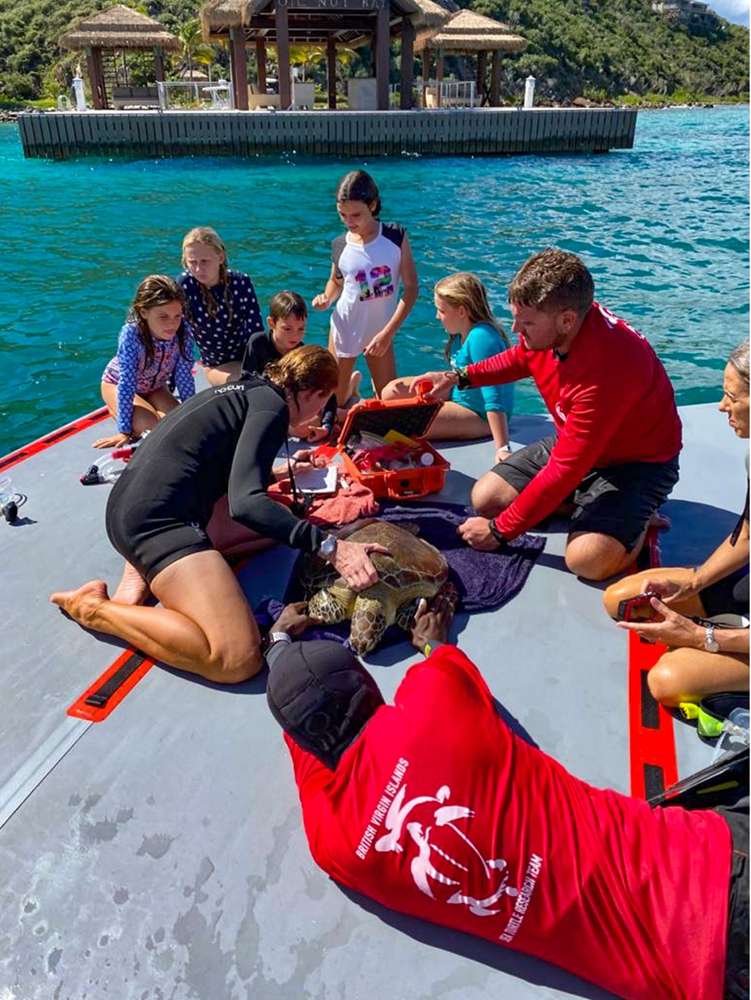 The STEEL Project is being led by the Marine Conservation Society UK alongside local organisation, the Association of Reef Keepers (ARK) and partnerships with the BVI Government's Department of Agriculture and Fisheries and the Ministry of Natural Resources, Labour and Immigration. Additionally, local dive and tour operators such as Sail Caribbean Divers are participating in the project by providing boats and assisting local turtle scientists in capturing, tagging and releasing of sea turtles.
For more information see www.bviark.org
The BiG Scuba Podcast… with Julianne Zielfle
Ian and Gemma chat about what they have been up to and we hear from a caller on The BiG Scuba Bat Phone. Our guest is Julianne Zielfle. Julianne became a certified diver in 1985 and she is an award-winning speaker, photographer and media professional. She first appeared in dive magazines in the late 1980s when she met Stephen Frink. She worked on Cousteau's Campaign on Rights of Future Generations in 1994. She co-chaired the Hans Hass Film Festival and was co-creator of the Dive Industry Awards Gala in 2000. She has been helping schools in the South Pacific since 1992 and teaches in her local school district. In 1999, she was recognized by D.A.N. with the Outstanding Volunteer of the Year Award.
You can follow Julianne Zielfle on Facebook here.
---
Find more podcast episodes and information at www.thebigscuba.com and on most social platforms @thebigscuba 
Jeff chats to… Marine Biologist and Underwater Videographer Jake Davies (Watch Video)
In this exclusive Zoom interview, Jeff Goodman, Scubaverse Editor-at-Large, chats to Jake Davies, Marine Biologist, HSE Professional scuba diver, underwater videographer (using videos and 360 clips for VR) and CAA licensed drone pilot. 
Jake grew up on Pen Llŷn, North Wales and coming from a maritime family meant that from a young age the underwater world and marine life have played a major role in his life. His interest in marine life and the sea led to him studying Marine Biology at Bangor University where he was successful in obtaining a year in industry with the Intertidal & Coastal team at Natural Resources Wales.
​In 2017 Jake was successfully awarded a Sea-Changers Grant to run 'Dive Into Monitoring: Seagrass' surveys with SeaSearch North Wales. The surveys aimed to gather updated information on the Seagrass bed in Porthdinllaen with volunteer divers and local dive clubs.
As a media diver, Jake has worked as part of the dive team (Marine Ecosol) filming for BBC Wales Hidden Wales with Will Millard (Lazerbeam Productions & Folk Films).
Footage which Jake has filmed off the Welsh Coast, as well as the Canary Islands, has been featured for a variety of BBC programmes including an episode of Countryfile where he was interviewed about the Seagrass in Porthdinllaen, Wales along with the rest of the Project Seagrass team. He is also a blogger and contributor to Scubaverse @JDScuba, and a co-director of Under Water Wales @dandwrcymru.
​As well as being a HSE Scuba Diver Jake is also employed as the Project Coordinator for Angel Shark Project: Wales. He is also a Project Leader on a Save Our Seas Foundation Project.
​Through sharing underwater videos and photos of amazing and unique wildlife/habitats that are found beneath the waves along the Welsh Coast as well as abroad Jake hopes to inspire people to go beneath the waves and making the underwater world more accessible for all.
Find out more about Jake and his work at: https://jakeddavies1996.wixsite.com/jdscuba
---
Rather listen to a podcast? Listen to the audio HERE on the new Scubaverse podcast channel at Anchor FM.
Explore the amazing triangle of Red Sea Reefs - The Brothers, Daedalus and Elphinstone on board the brand new liveaboard Big Blue.  With an option to add on a week at Roots Red Sea before or after. 
Strong currents and deep blue water are the catalysts that bring the pelagic species flocking to these reefs. The reefs themselves provide exquisite homes for a multitude of marine life.  The wafting soft corals are adorned with thousands of colourful fish. The gorgonian fans and hard corals provide magnificent back drops, all being patrolled by the reef's predatory species.
£1475 per person based on double occupancy.  Soft all inclusive board basis, buffet meals with snacks, tea and coffee always available.  Add a week on at Roots Red Sea Resort before or after the liveaboard for just £725pp.  Flights and transfers are included.  See our brochure linked above for the full itinerary.
This trip will be hosted by The Scuba Place.  Come Dive with Us!
Call 020 3515 9955 or email john@thescubaplace.co.uk
www.thescubaplace.co.uk
More
Less