A Postcard from Curaçao | Episode 10| Avila Beach Hotel (Watch Video)
Tenth in a series of inspirational postcards from our friends at Dive Curacao.
Welcome to episode 10 where we are visiting the Avila Beach Hotel which is the oldest operating hotel in Curaçao that received its first guests in 1949 and has a history that dates to 1780. 
Located on the eastern edge of Curaçao's historic Pietermaai district, the Avila Beach Hotel is an award-winning luxury beachfront property that has been completely transformed over the last 240 years.  In fact, the main lobby and entrance called the Belle Alliance was the first building constructed and it is named after "Auberge de la Belle Alliance", the alliance against Napoleon.  Interestingly, over the years, the Avila Beach Hotel has served as a private hospital, a boy's boarding school and even a Governor's home.  But on February 1st, 1949 with only 18 beds, the "Hotel Avila" officially opened its doors.
In 1959, Dr. Pieter Hendrik "Gungu" Maal, the owner at that time, took the initiative of creating a beach and a massive pier to protect the beach from the destructive powers of the sea. In March 1959, the beach was opened and since then, "Hotel Avila" has been called the Avila Beach Hotel.
Further transformations followed when Mr. Finn Nicolaj (Nic) Møller, a Danish entrepreneur purchased the hotel in 1977.  Starting in 1992, new wings were added, the Blues Bar & Restaurant was built on the original pier, the Octagon Museum was restored and extra facilities were constructed that included a tennis court, a sea terrace and a new sandy beach.
---
Travel Tip: For special occasions book the stunning La Belle Alliance Penthouse which has open concept living room with French doors that open to a spacious balcony giving you a nice outdoor feeling. This luxury penthouse is equipped with a kitchen with breakfast bar, 2 bedrooms and 2.5 bathrooms. The large balcony offers a stunning view to the sea and the luscious garden below.
---
In 2007, after the successful completion of the Octagon wing, the hotel opened the Avila Wellness Club, Conference and Banqueting Center, an infinity pool and renewed the Octagon plaza to offer a shopping area and a place to organize concerts, large events and weddings.
Since 2015, the Avila Beach Hotel is owned by the Vogels Family and today it remains to be one of the few family owned hotels on the island where is not only world renowned for its personal touch and the incredible accommodations (that now consists of 143-rooms, 2 private beaches, a full-service spa and gym, and 3 restaurants) but is also now an industry leader in the area of sustainability.
---
Travel Tip: Dine in style at The Pen which is a unique semi-open air restaurant with an exceptional menu that provides you with a taste of the Caribbean using local and regional ingredients complemented with a stunning view.
---
Under the guidance of Robbin Vogels, the General Manager, the Avila Beach Hotel is dedicated to lead the way through innovation and the practice of sustainable initiatives such as efficient energy use, recycling, and waste reduction.
Robbin says: "Innovation and sustainability is what we strive for. A higher efficiency is sought after in all business decisions at our hotel, restaurants, spa, and gym, so it is not limited to just saving energy and recycling.  Robbin went on to say, "Being the oldest hotel on Curacao we have a rich history and deep connection with the community. All opportunities for a better environment and both the well-being of our employees and the Curacao community are being fully exploited. Together we can create a better world, even on a small island such as Curacao."
To further underline this commitment to the environment, the Avila Beach Hotel together with Coral Restoration Curaçao signed a partnership agreement in February of 2019 to repopulate the hotels house reef with staghorn and elkhorn corals.  By doing so, this has improved the quality of the reef and it has added a natural layer of protection against storm surges and erosion.
The Avila Beach Hotel is absolutely steeped with history and tradition, and of course the award-winning quality is obvious from the moment that you step up into the main lobby.  But what really sets the Avila Beach Hotel apart is their personal touch.  Because it is not about the beautiful beach or that comfortable room that makes Avila Beach Hotel, it is their employees or what they call, their "Avila Family" that provides you with that personal touch that creates those lasting memories and an incredible Curaçao experience.
Tune in for Episode 11, where will be visiting the Blue Bay Golf and Beach Resort, a plantation that dates back to the 1800's, that was occupied and plundered by French pirates.  We will also be visiting with Blue Bay Dive and Watersports to not only dive their beautiful house reef but also to discover more about the sustainability initiatives with Project AWARE.
We hope you have enjoyed this Postcard from Curaçao and we also hope to see you soon.  Don't forget to subscribe to our mailing list and to the Dive Curaçao YouTube Channel to be automatically notified.
Sincere Love from Curacao,
Bryan Horne, Dive Curacao
Tilo and Yvonne Kuhnast, Nature Pics Films
---
Videos produced and edited for Dive Curacao in cooperation with Nature Pics Films.
Caribbean Conservation in Action: Tagging Turtles in the BVI
For centuries, the Japanese artisans have used hawksbill turtle shells to make a variety of trinkets such as eyewear, combs and cigar boxes. By the 1800's, a fad had spread to the America's and Europe to obtain hawksbill shells and green turtle soup had become a delicacy around the world. It wasn't until the late 1970s when the Convention on International Trade in Endangered Species of Wild Fauna and Flora (CITES), the body that regulates cross-border trade in wildlife banned the international commercial trade of sea turtles and in 1978, the United States banned the intentional killing of all sea turtles under the Endangered Species Act.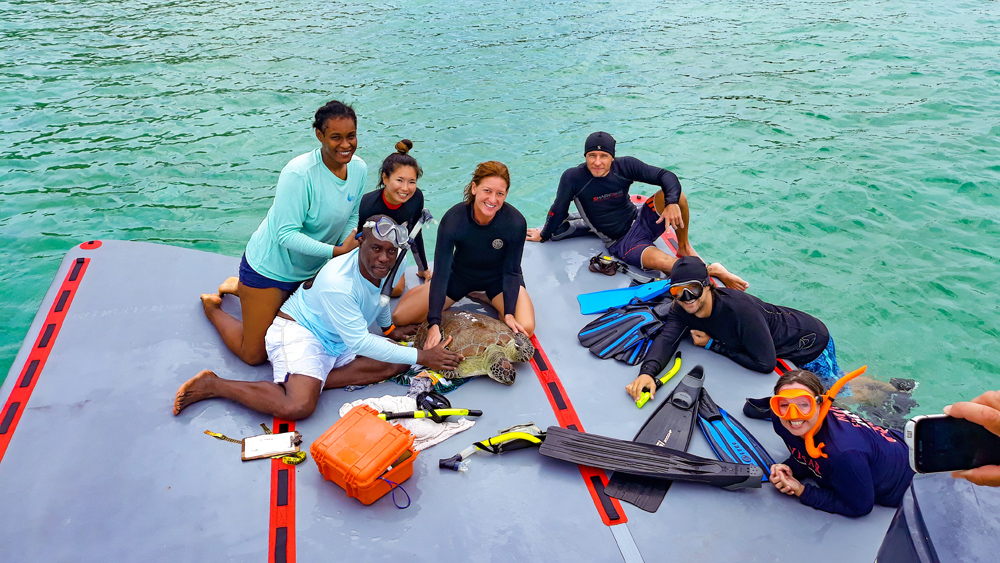 However, In the late 1990s and early 2000s, Japan tried to lift restrictions under CITES to reopen the trade of hawksbill turtle shells with Cuba. Because sea turtles are a regionally shared resource due to their highly migratory range over an individual's lifetime, many Caribbean countries became concerned that Japan and Cuba's proposal would undermine some of the long-standing conservation efforts that had already been implemented. This prompted the United Kingdom to launch the Turtles of the UK Overseas Territories (TCOT) project in 2001 to address critical gaps in the knowledge of marine turtle populations found in all their Caribbean territories (Anguilla, Bermuda, British Virgin Islands, Cayman, Montserrat and Turks & Caicos Islands).
Although the BVI was already monitoring nesting leatherback sea turtles, this 3-year UK-funded project brought a new dimension to turtle monitoring to the BVI and other UK Territories. In-water turtle tagging of foraging populations commenced which identified healthy populations of juvenile to sub-adult (teenage) green and hawksbill turtles in the BVI. Through genetic sampling of those turtles tagged, green turtles were identified as coming from as far away as Ascension Island, Venezuela and Costa Rica with hawksbills coming from Brazil, Barbados, and Cuba. Subsequently, some of the tagged turtles have migrated from the BVI on to their adult foraging grounds and travelled as far as Nicaragua, Bonaire and Guadeloupe.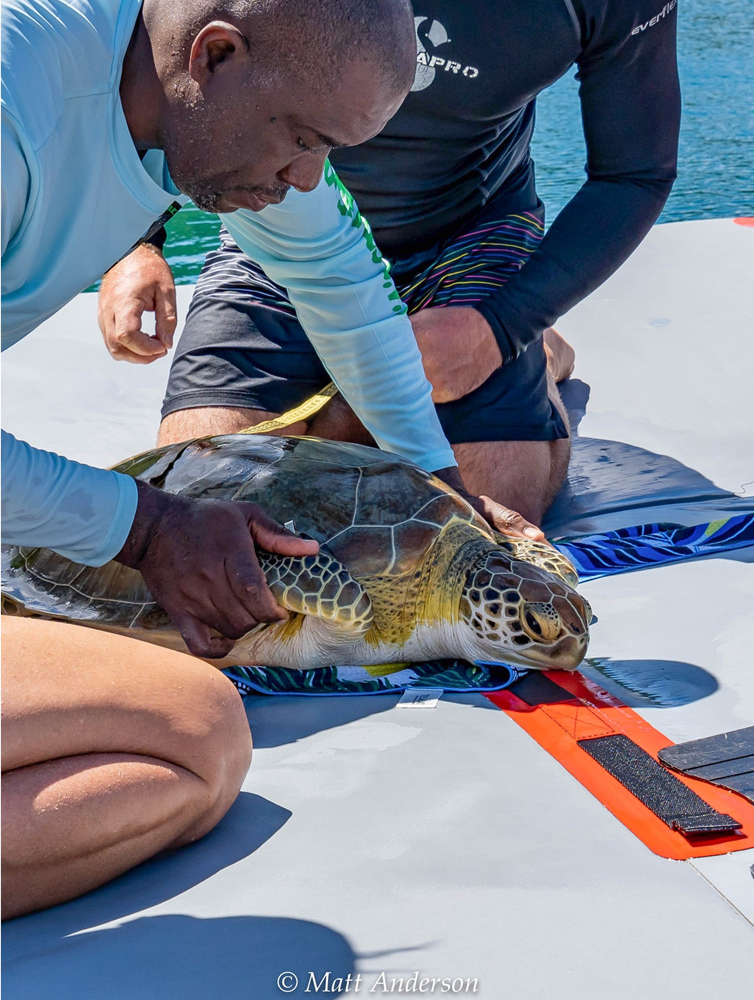 Although the TCOT project ended many years ago, in-water turtle tagging of foraging populations continued over the years. Now, with an extensive baseline of information and a growing need for changes in local sea turtle management, the BVI was awarded a Darwin Plus grant worth over US$300k from the UK's Overseas Territories Environment & Climate Fund in June 2020. This newly implemented STEEL Project (Sustainable turtles, environments, economies & livelihoods) is aimed to ramp up tagging efforts to better understand changes in the status of BVI turtles based on nearly 20 years of data collected. Additionally, foraging turtle habitats will be assessed on how to build resiliency in areas that were impacted by the 2017 hurricane events. An educational programme to provide the community with a better local understanding of turtle conservation will be implemented and, using the MCS Community Voice Method (CVM) of engagement, the project will engage BVI communities to develop new legislation recommendations and a conservation action plan to safeguard BVI's turtle populations for future generations.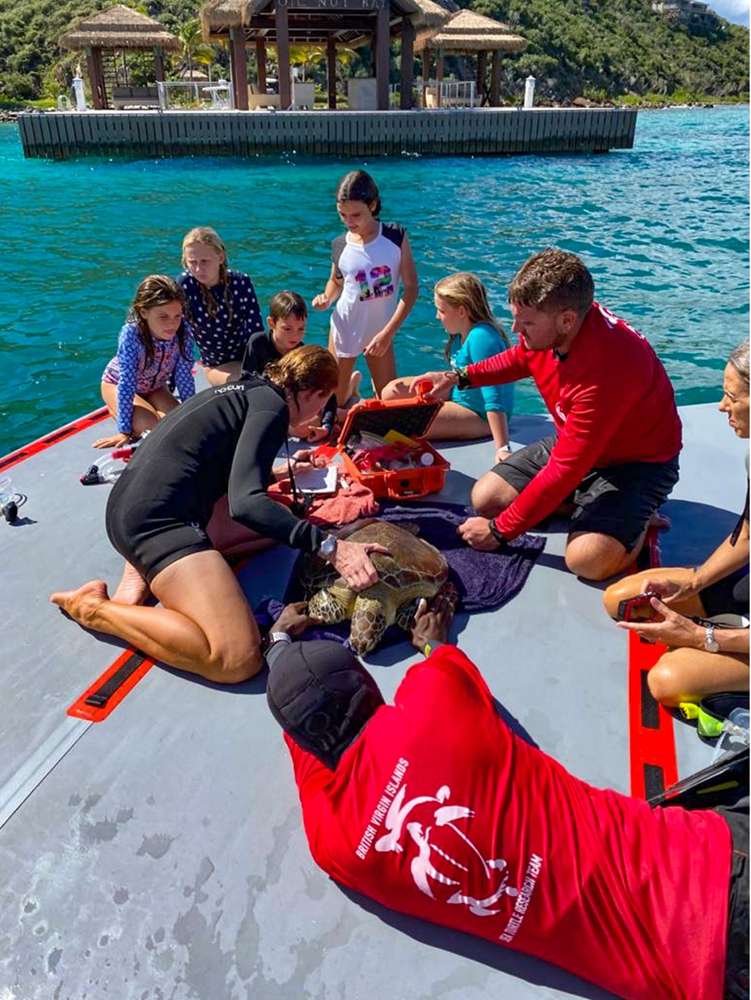 The STEEL Project is being led by the Marine Conservation Society UK alongside local organisation, the Association of Reef Keepers (ARK) and partnerships with the BVI Government's Department of Agriculture and Fisheries and the Ministry of Natural Resources, Labour and Immigration. Additionally, local dive and tour operators such as Sail Caribbean Divers are participating in the project by providing boats and assisting local turtle scientists in capturing, tagging and releasing of sea turtles.
For more information see www.bviark.org
Get moving with the new RAID DPV training programs
The thrill of speeding through the water behind a diver propulsion vehicle (DPV) is an experience that really gets the blood racing. Using a DPV provides divers both immense fun and the means to achieve goals that would be impossible without their use.
RAID is proud to announce the new two-tier DPV training program with certifications for DPV and Advanced DPV.
Why DPV and why now?
Recreational and technical divers are using DPVs to access sites that would be difficult to reach and explore using traditional propulsion methods; to help propel large amounts of heavy equipment; to increase the safety of dives in areas of strong current; or just for the pure exhilaration of shooting through the water at speed and performing underwater acrobatics.
By extending your capabilities and extending your range, using a DPV opens new vistas for exploration and fun.
DPV
This certification option is aimed at the recreational diver who wishes to learn how to use a DPV to enhance their diving by using mainly natural navigation.
Advanced DPV
This certification option is available to anyone who is familiar with longhose configuration, has logged a minimum of 20 dives and is certified as Navigation specialty divers.
This certification option is aimed at the slightly more experienced diver with preexisting navigational training and diving on a single, twin or sidemount setup with a longhose. Although this level is slightly more challenging, the more advanced navigation exercises provide an important base for more complex types of DPV diving within a team.
PREREQUISITES
You must:
Be a minimum of 12 years old.
Be certified as RAID Open Water 20, Junior Open Water or equivalent.
Just visit www.diveRAID.com to put some extra dash into your dives.
This is the perfect start to your 2021 diving season… and at an incredible lead-in price of just £885 per person.
Jump on board the latest addition to the Emperor fleet and enjoy diving the famous sites of the Red Sea with this fantastic special offer. This itinerary takes in the wonderful South & St Johns from 26 February – 05 March 2021.  
Subject to availability – limited flight seats at this price so don't delay!
Call Diverse Travel on 01473 852002 or email info@diversetravel.co.uk to book your spot!
More
Less