Scotland's newest snorkel trail reveals Lochaber's hidden depths
A new snorkel trail exploring Lochaber's beautiful beaches and rocky shores has been created by the Scottish Wildlife Trust and West Highland College UHI. The self-led Lochaber Snorkel Trail features six sites on the region's coast and identifies areas that can be explored by both beginner and more advanced snorkellers.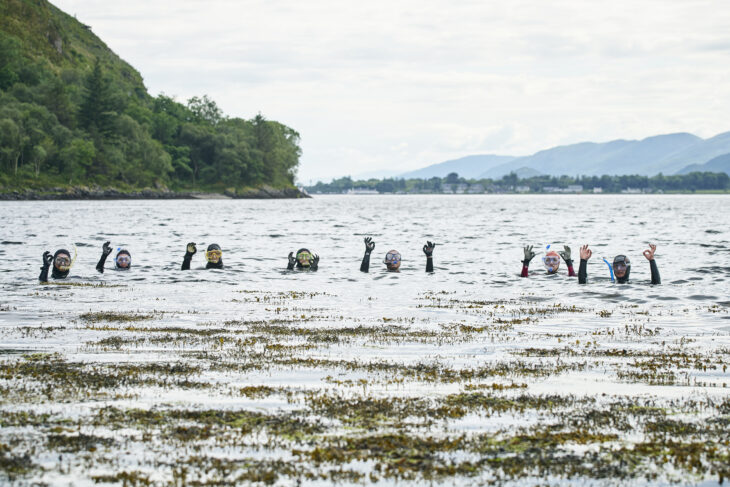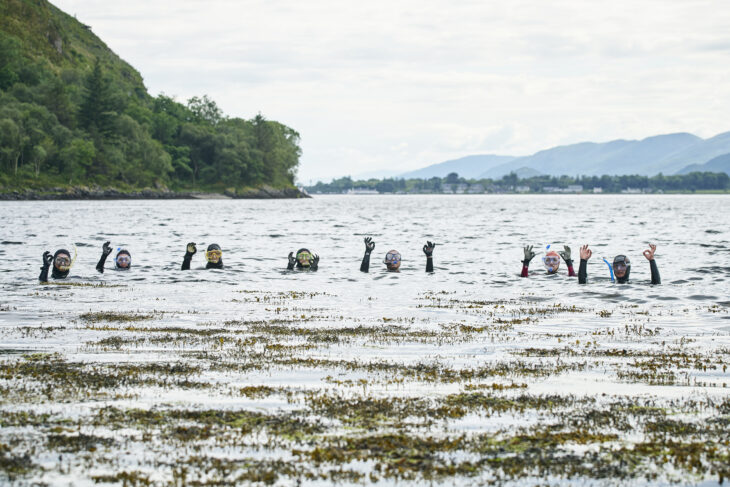 Exploring these areas could lead to close-up encounters with colourful wildlife including starfish, jellyfish, anemones and crabs, as well as seals and a range of fish.
The trail began as a final year project for a Marine and Coastal Tourism student based at West Highland College's School of Adventure Studies. It was launched on the shore of Loch Linnhe by students from the college and Kate Forbes, MSP for Skye, Lochaber and Badenoch.
Dr Sam Collin, Living Seas Manager, Scottish Wildlife Trust said: "Lochaber's dramatic landscapes, beautiful beaches and internationally recognised biodiversity make it one of the finest locations for marine and coastal tourism in Scotland.
"The Lochaber Snorkel Trail is a fantastic addition to the network of trails being developed as part of our Living Seas project and we are delighted to have worked closely with West Highland College UHI to create it. We want to help people realise the importance of protecting Scotland's seas – helping local people and visitors to safely discover marine wildlife through snorkelling is a fantastic way to achieve that."
Kate Forbes, MSP for Skye, Lochaber and Badenoch, said: "It was fantastic to have the chance to experience first-hand the amazing coastal environment we have in Lochaber. This initiative goes to show that you don't have to go to the Caribbean to see crystal clear waters and colourful marine life.
"I'm pleased to see West Highland College UHI and the Scottish Wildlife Trust collaborating on this new snorkel trail, a welcome initiative during Scotland's Year of Coasts and Waters. The work helps to highlight Lochaber's stunning coast and the amazing life beneath the waves. I'm sure the trail will enhance adventure tourism in Lochaber, and raise awareness of the importance of looking after our local marine life."
Annabel Lawrence, Lecturer in Marine and Coastal Tourism at West Highland College UHI said: "We're delighted to have worked with the Scottish Wildlife Trust to deliver this new trail, which is an opportunity for residents and visitors to Lochaber to experience our coastal and inshore waters and foster a connection to this environment. We hope that it will lead to a greater understanding, appreciation and protection of these fragile, threatened habitats and iconic species."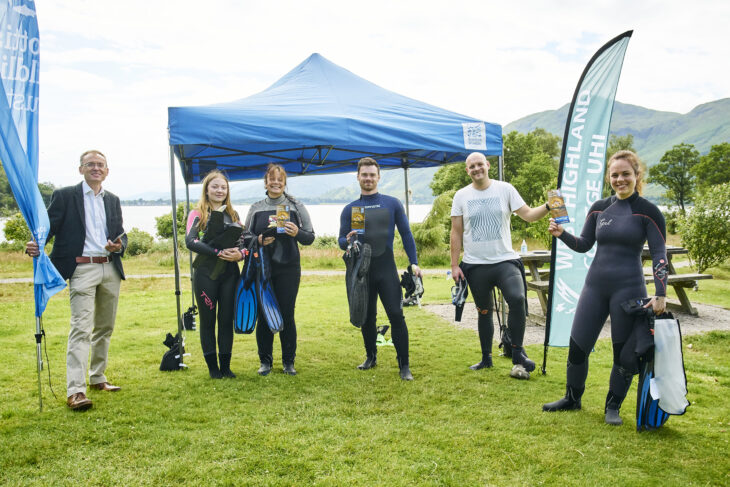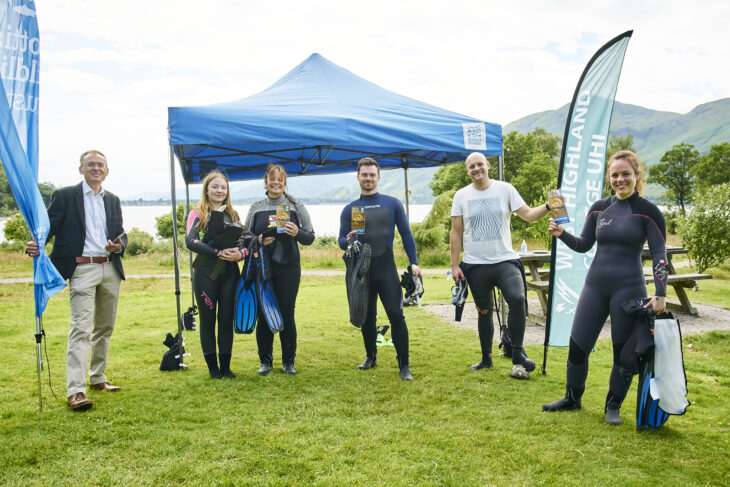 "The trail began as a final year project for one of our Marine and Coastal Tourism students. The project, developed with support from the Scottish Wildlife Trust and the Centre for Tourism Research (CRTR) at West Highland College, has resulted in this new trail around Lochaber, the training and qualification of 12 UHI students as British Sub Aqua Club (BSAC) Snorkel Instructors and also Dolphin Snorkeller training for primary school children in the area. The training and elements of the leaflet production were supported through the CAPITEN project, co-financed by the Atlantic Area INTERREG programme and Highlands and Islands Enterprise.
"Our Marine and Coastal Tourism degree delivered by the School of Adventure Studies was developed in response to Scotland's initial marine tourism strategy 'Awakening the Giant' which presented the opportunity to create a world class marine tourism sector in Scotland, the relationship between UHI and the marine tourism sector has now developed into a partnership with the 2020 'Giant Strides' marine tourism strategy ensuring that 'Marine tourism is sustainable and meets changing consumer, workforce, community and environmental needs and expectations, whilst growing the industry's overall economic contribution to over £500 million by 2025' (Giant Strides, 2020:3).
"The degree is in its sixth year of delivery and has had many positive outcomes. Graduates from the course are involved in sea kayaking, sailing, leisure cruises, business start-ups and community marine projects."
Click here to find out more about the Scottish Wildlife Trust snorkel trails.
New 60m Reel and Dive Torch Combo from Northern Diver
Northern Diver have launched a new 60m Reel & Dive Torch Combo.
The innovative Northern Diver line reel has a unique design and it has been manufactured from a combination of anodized aluminium and synthetic polymers, to make it strong, lightweight and corrosion resistant. The free-flowing spool has a thumb operated spool-lock, to ensure controlled line deployment and a 'sprung' reel handle. Allowing the handle to extend whilst in use, if wearing gloves but springs back to half its length, for easy storage. Supplied complete with 60m (197') of high-vis orange reel line.
The reel also incorporates an attachment point on the top and rubber fixing band allowing you to easily mount Northern Divers Varilux Micro Dive Torch. Ideal for hands-free directional light, ideal for lining out in reduced visibility (within a wreck). Other torches of a similar size to the Micro may be mountable but you should check dimensions first.
Check out https://www.ndiver.com/60m-reel-dive-torch-combo for more.
Reefs Go Live returns for new season
CCMI brings the ocean directly to classrooms around the world through live-stream lessons from underwater
In 2018, the Central Caribbean Marine Institute (CCMI) launched Reefs Go Live, their innovative, flagship education programme that live-streams directly from underwater on the coral reefs in Little Cayman to students in classrooms around the world in real time. For the 2022 season, the four episodes of Reefs Go Live reached more than 107,000 viewers in 22 countries. CCMI's Reefs Go Live team hopes to expand their reach with four new episodes and supplemental teaching resources to help integrate the material into classroom lessons.
Science Communications & Development Manager for CCMI, Beth Chafin, is excited to be part of another year of Reefs Go Live:
"Knowing we have an audience that spans the world, our team is energised as we plan and implement our Reefs Go Live season for 2023! We feel that creating a connection to the ocean and sharing the beautiful coral reefs of Little Cayman with others, both locally and abroad, is one of the most important ways to increase support for critical, timely issues such as marine protection and sustainability. At CCMI, we are fortunate to have these stunning reefs at our doorstep; not everyone is so lucky to be this connected to coral reefs, but healthy coral reefs are vitally important to everyone on earth. Bringing the ocean into classrooms and homes through Reefs Go Live allows us to share the work we do at the Little Cayman Research Centre, facilitate real-time interactions between viewers around the world and our experts in the field, and inspire the diverse audience to take positive action for the future of coral reefs."
The first episode of 2023 will take place on Friday, 31st March at 10 am Cayman time (UTC -5h). The episode, 'Finding Hope on our Reefs', will feature what CCMI's long-term monitoring of Little Cayman's reefs shows us. The data from the annual surveys reveals important trends in reef health over time that reflect global threats and the benefits of strong local protection. Reefs Go Live hosts will explain why this annual monitoring is important and what the results tell us about the future of our coral reefs that we all depend upon. Viewers of each episode will be able to ask questions of the diver and participate in polls through the online platform to make Reefs Go Live an interactive experience.
Additional episodes for this year will run at 10 am (UTC -5h) on the following dates:
Thursday, 11th May: Adaptation on Coral Reefs
Wednesday, 24th May: Reef Resiliency & Restoration
Thursday, 8th June: World Ocean Day – 25 Years of Coral Reef Research
Registration for Reefs Go Live is free and is only required once to receive access to all episodes: https://donate.reefresearch.org/rgl2023.
Reefs Go Live provides an opportunity for students from all over the world to engage with the stunning ocean environment in its most natural format. As coral reefs around the world face unprecedented pressure, generating increased engagement with these precious ecosystems creates an opportunity to promote marine sustainability in a positive and fun way.
Reefs Go Live utilises streaming technology with underwater video and audio equipment to enable real time broadcasting from Little Cayman's stunning coral reefs. Little Cayman, a Mission Blue Hope Spot, hosts one of the healthiest reef ecosystems in the Caribbean, which overall remains healthy and shows resiliency to climate change impacts. The broadcasts and education materials draw connections from CCMI's current research conducted in Little Cayman to the national science curriculum and key ocean literacy principles, making CCMI's work relevant and accessible to students and viewers of all ages, and emphasizing the relationship that we all have to coral reefs, no matter where we are.
Reefs Go Live is a free education programme that is made possible by the generosity of The Edmund F. and Virginia B. Ball Foundation. To register for the broadcasts and teaching resources, please visit: https://reefresearch.org/what-we-do/education/reefs-go-live/
THE VERY BEST itinerary there is for reef lovers! Elphinstone, Rocky Island, Zabargad, St Johns, Ras Banas, Fury Shoals - expect stunning reefs, big animals, and of course Oceanic White tips!   Great food, great crew, great boat, great service - and phenomenal diving. 27th May 2023 - 7 nights, Nitrox included. Flights from London. Call for regional departures. Boat only prices available - just call or mail! For more info, visit www.thescubaplace.co.uk/bigblue or call 0203 515 9955
More
Less