Scotland's newest snorkel trail reveals Lochaber's hidden depths
A new snorkel trail exploring Lochaber's beautiful beaches and rocky shores has been created by the Scottish Wildlife Trust and West Highland College UHI. The self-led Lochaber Snorkel Trail features six sites on the region's coast and identifies areas that can be explored by both beginner and more advanced snorkellers.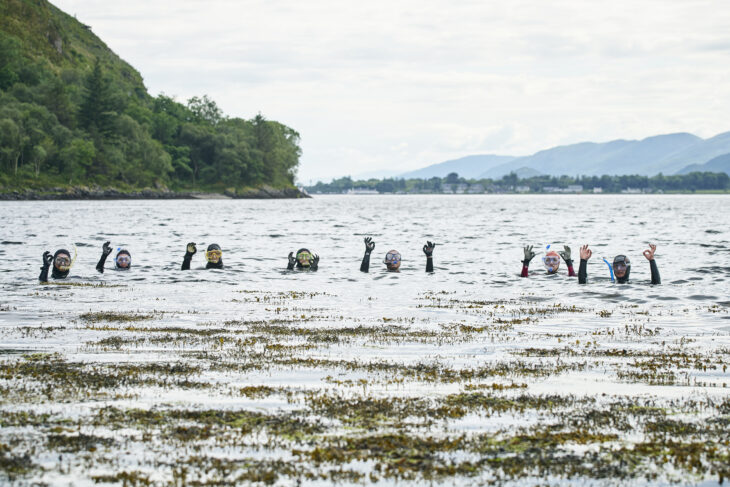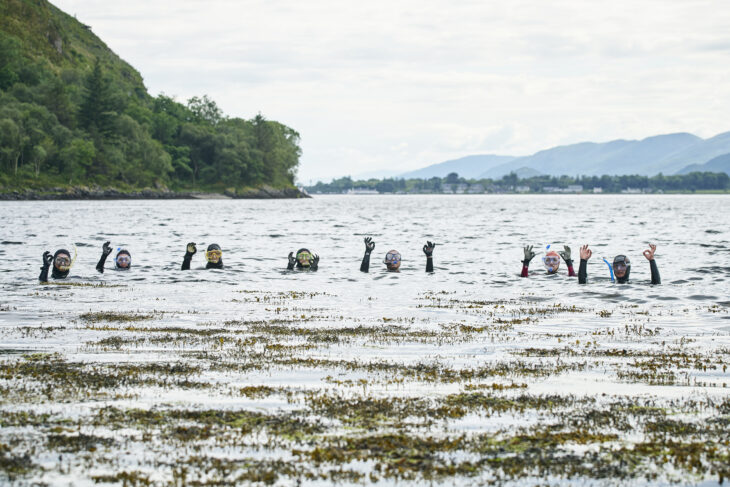 Exploring these areas could lead to close-up encounters with colourful wildlife including starfish, jellyfish, anemones and crabs, as well as seals and a range of fish.
The trail began as a final year project for a Marine and Coastal Tourism student based at West Highland College's School of Adventure Studies. It was launched on the shore of Loch Linnhe by students from the college and Kate Forbes, MSP for Skye, Lochaber and Badenoch.
Dr Sam Collin, Living Seas Manager, Scottish Wildlife Trust said: "Lochaber's dramatic landscapes, beautiful beaches and internationally recognised biodiversity make it one of the finest locations for marine and coastal tourism in Scotland.
"The Lochaber Snorkel Trail is a fantastic addition to the network of trails being developed as part of our Living Seas project and we are delighted to have worked closely with West Highland College UHI to create it. We want to help people realise the importance of protecting Scotland's seas – helping local people and visitors to safely discover marine wildlife through snorkelling is a fantastic way to achieve that."
Kate Forbes, MSP for Skye, Lochaber and Badenoch, said: "It was fantastic to have the chance to experience first-hand the amazing coastal environment we have in Lochaber. This initiative goes to show that you don't have to go to the Caribbean to see crystal clear waters and colourful marine life.
"I'm pleased to see West Highland College UHI and the Scottish Wildlife Trust collaborating on this new snorkel trail, a welcome initiative during Scotland's Year of Coasts and Waters. The work helps to highlight Lochaber's stunning coast and the amazing life beneath the waves. I'm sure the trail will enhance adventure tourism in Lochaber, and raise awareness of the importance of looking after our local marine life."
Annabel Lawrence, Lecturer in Marine and Coastal Tourism at West Highland College UHI said: "We're delighted to have worked with the Scottish Wildlife Trust to deliver this new trail, which is an opportunity for residents and visitors to Lochaber to experience our coastal and inshore waters and foster a connection to this environment. We hope that it will lead to a greater understanding, appreciation and protection of these fragile, threatened habitats and iconic species."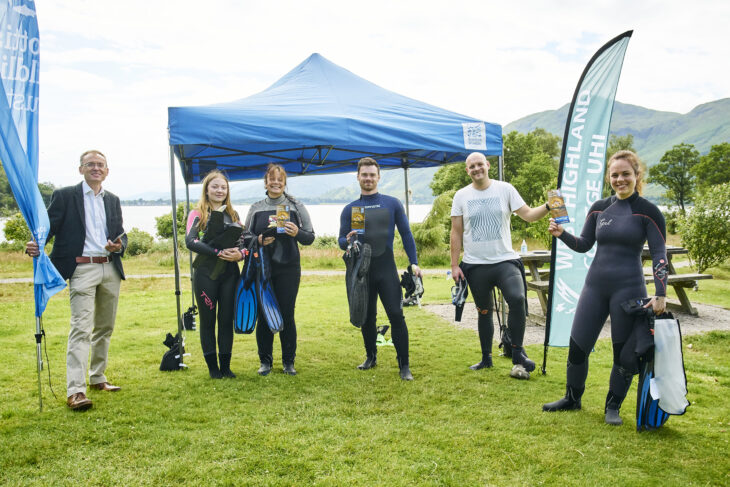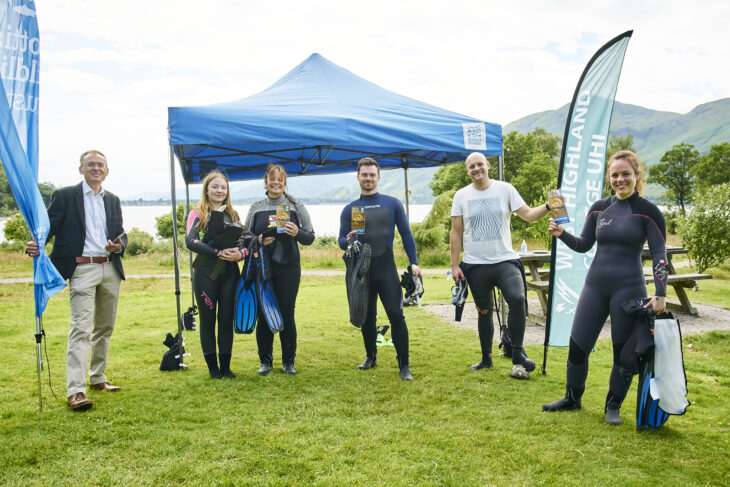 "The trail began as a final year project for one of our Marine and Coastal Tourism students. The project, developed with support from the Scottish Wildlife Trust and the Centre for Tourism Research (CRTR) at West Highland College, has resulted in this new trail around Lochaber, the training and qualification of 12 UHI students as British Sub Aqua Club (BSAC) Snorkel Instructors and also Dolphin Snorkeller training for primary school children in the area. The training and elements of the leaflet production were supported through the CAPITEN project, co-financed by the Atlantic Area INTERREG programme and Highlands and Islands Enterprise.
"Our Marine and Coastal Tourism degree delivered by the School of Adventure Studies was developed in response to Scotland's initial marine tourism strategy 'Awakening the Giant' which presented the opportunity to create a world class marine tourism sector in Scotland, the relationship between UHI and the marine tourism sector has now developed into a partnership with the 2020 'Giant Strides' marine tourism strategy ensuring that 'Marine tourism is sustainable and meets changing consumer, workforce, community and environmental needs and expectations, whilst growing the industry's overall economic contribution to over £500 million by 2025' (Giant Strides, 2020:3).
"The degree is in its sixth year of delivery and has had many positive outcomes. Graduates from the course are involved in sea kayaking, sailing, leisure cruises, business start-ups and community marine projects."
Click here to find out more about the Scottish Wildlife Trust snorkel trails.
Diving below the waves of the Western Cape, South Africa – Long Beach at night (Watch Video)
Head under the waves of False Bay and explore the incredible diversity that is found along the Western Cape. The bay has popular dive spots from diving amongst the biodiverse underwater kelp forests to jumping in with the playful and friendly cape fur sealions (Arctocephalus pusillus). The bay along with the rest of the South Africa coast is known for the range of shark species that are found from the shallow coastal shores out into the open oceans. The coast is also home to numerous endemic shark species such as puffadder shyshark (Haploblepharus edwardsii) and Pyjama shark.
Longbeach is a shallow shore dive close to the coastal town of Simonstown on the Western Cape. The dive is mainly made up of diving across the sand with a few wreckages, rocks and outcrops where there's algae growing. A pipeline can be found at the site which provides locations for species such as Pyjama Sharks (Poroderma africanum) and octopus (Octopus vulgaris) to shelter. Diving at night at the site provides the opportunity to see species that are more often hidden during the day such as cape Squid (Loligo reynaudii) and Biscuit Skate (Raja straeleni). Other shark species such as the small Puff Adder Shyshark (Haploblepharus edwardsii) are also occasionally seen at the site.
Diving with the local dive club – Cape Town Dive Centre.
---
Follow Jake aka JD Scuba on the YouTube channel @Don't Think Just Blog.
Book Review – The Final Dive: The Life and Death of 'Buster' Crabbe (2007)
It was the height of the Cold War. The Soviet Cruiser Ordzhonikidz, supported by two destroyers, had brought Soviet leaders Khruschev and Bulganin to Britain for sensitive meetings with the British Government. The ships were moored in Portsmouth harbour and the Prime Minister, Sir Anthony Eden, had expressly forbidden any clandestine inspection of them. However, on the morning of 19th April 1956 Commander Lionel 'Buster' Crabbe, an experienced naval diver, slipped into the cold waters of Portsmouth harbour. His top secret mission was to photograph the hull, propellers and rudder of the Ordzhonikidze. He was never seen alive again.
A badly decomposed body, with head and hands missing, was discovered by fishermen in Chichester harbour months later. It was claimed to be the missing body of Buster Crabbe – but many had doubts. The incident marked the start of a controversy that claimed the posts of several high ranking naval, government and intelligence service personnel. The author of The Final Dive, Don Hale, claims it is one that still rages and which may not be resolved even when secret government files are released in 2057.
Don Hale, an acknowledged campaigning journalist and former Journalist of the Year brings all his experience and skill to unravelling this longstanding scandal. He has drawn upon official reports and private letters, statements from government representatives, fellow officers and friends to piece together Buster's life and events leading to his disappearance and subsequent investigation. He speaks of "inquiries blocked by intrigue, constant cover-ups and government bureaucracy coupled with threats relating to the Official Secrets Act" (p. xi). If you like reading about subterfuge on a grand scale you will enjoy The Final Dive.
Don Hale's meticulous account of the life of Buster Crabbe is supported by dozens of black and white photos and extracts from numerous official documents. It reveals how an amazing series of civilian jobs, wartime activities and friendships with high ranking government officials, British intelligence officers, American CIA operatives. . . and now known spies, prepared him for his final dive and perhaps his fate. One of Crabbe's acquaintances was the author Ian Fleming – of James Bond fame. Indeed, it is suggested that Fleming based the character of 007 on Buster Crabbe. After reading of his exploits, both before WWII, his bomb disposal work during the war, and afterwards it is easy to see why. Certainly, those who worked with Buster Crabbe "all agree he was fearless." (p.59). After reading of his exploits one wonders if he was too fearless.
In the later stage of Buster's life, prior to his disappearance, Don Hall recounts "a constant merry-go-round of overseas assignments" (p. 118) for Crabbe and how he "began to receive increasingly hazardous commissions" (p. 136). It culminated in the morning dive in Portsmouth harbour. Hale's forsensic-like account of the events surrounding the final dive and aftermath reveals absolute panic and bungling behind the scenes as official answers conflict with known facts. He describes how "The whole incident still seems bathed in secrecy, with the true facts deliberately buried in bureaucracy, and supported at the highest level by an incredible cover-up operation".(p. 205).
A final comment by Don Hale adds to the intrigue. He states "The only part of the Crabbe puzzle about which I am not certain is not who sent him – we know the answer to that – but why on earth he was he sent, possibly at considerable risk?" (p. 248). After reading The Final Dive: The Life and Death of 'Buster' Crabbe you will no doubt have your own ideas.
---
The Final Dive: The Life and Death of 'Buster' Crabbe (2007)
By Don Hale
Stroud: Sutton Publishing
ISBN 978 0 7509 4574 5
260 pp
---
Don Hale was a professional footballer before becoming editor of several regional newspapers. He has received numerous national and international awards for investigative journalism including Journalist of the Year. In 2002 he was awarded an OBE for his campaigning journalism in the Stephen Downing miscarriage of justice case. He has championed several others who have been wrongly convicted.
His other books include Town without Pity (2002), Murder in the Graveyard (2019) and Mallard: How the 'Blue Steak' Broke the World Speed Record (2019).
---
Find out more about Professor Fred Lockwood, who is also a published author, at www.fredlockwood.co.uk.
Explore the amazing triangle of Red Sea Reefs - The Brothers, Daedalus and Elphinstone on board the brand new liveaboard Big Blue.  With an option to add on a week at Roots Red Sea before or after. 
Strong currents and deep blue water are the catalysts that bring the pelagic species flocking to these reefs. The reefs themselves provide exquisite homes for a multitude of marine life.  The wafting soft corals are adorned with thousands of colourful fish. The gorgonian fans and hard corals provide magnificent back drops, all being patrolled by the reef's predatory species.
£1475 per person based on double occupancy.  Soft all inclusive board basis, buffet meals with snacks, tea and coffee always available.  Add a week on at Roots Red Sea Resort before or after the liveaboard for just £725pp.  Flights and transfers are included.  See our brochure linked above for the full itinerary.
This trip will be hosted by The Scuba Place.  Come Dive with Us!
Call 020 3515 9955 or email john@thescubaplace.co.uk
www.thescubaplace.co.uk
More
Less