It's more fun in the Philippines!
We have just returned from an amazing trip to the Philippines that took in three diving destinations and offered a wide variety of marine life and experiences. Out itinerary was intense, and we were determined to pack in as many dives as we could in our two week assignment. We will be writing a series of blogs and features about the trip over the coming weeks. To kick this off, here is brief overview of what we did.
Our itinerary:
We flew from Heathrow to Manila with Philippines Airlines (approx. 14 hours) and then on to Cebu (just over an hour). Philippines Airlines have a generous baggage allowance of 2x 23kg hold baggage per person plus 7kg hand luggage, so we had no issues with all our camera & dive kit!
A 3 hour transfer by car took us to our first resort – Magic Island Dive Resort in Moalboal. We had three days of diving (4 nights stay) and we packed in 9 dives, as well as snorkelling with Whalesharks! The diving offered plenty of variety with the beautiful reefs of Pescador Island, millions of schooling sardines in Moalboal, a truly amazing Mandarinfish mating dusk dive, diving and snorkelling with Whalesharks, as well as plenty of macro critters. We even tried a black water (drifting over deep water) night dive. It was quite a start to our travels!
For our next two transfers between resorts we travelled by land and sea, to enable us to dive as much as possible. Our second destination is Magic Oceans Resort in Anda, Bohol and we got there via road, ferry and road journeys that run very smoothly, arriving in time to unpack and get organised for another three days of diving. The diving here is macro-lovers heaven, with an epic night dive, and wall dives covered in coral, with nudibranchs everywhere, including the amazing Shaun the Sheep nudibranch which is tiny! We do another critter-packed 9 dives before it is time to move on once again.
Our final destination was Atmosphere Resort & Spa in Dauin near Dumagete. This involved another car, ferry, car journey to get there, taking in all the sights and sounds of this bustling nation as we passed. The diving here is famous for its muck diving, and frogfish are one of the key species that live here in abundance. We have never encountered so many in a single dive and the dive centre has a dedicated marine biologist on site who is obsessed with these enigmatic creatures. Apo Island, famous for its incredible reefs and abundant turtles is also just a short boat ride away. We also experienced some of the more relaxing opportunities this resort has to offer, such as a wine tasting, a massage and a trip on a more local style of transport…
Please watch out for our tales from the Philippines on Scubaverse.com in the coming weeks.
---
For more information please visit:
Philippines Department of Tourism
All images & text by Frogfish Photography
DAN launches 2021 webinar series
Divers Alert Network (DAN) has launched a new series of live monthly webinars on its YouTube channel, DAN TV.
Throughout 2021, experts from DAN's Research, Risk Mitigation, and Medical Services teams will give presentations on topics relevant to divers, dive pros and dive business owners as we look beyond the COVID-19 pandemic and resume diving and traveling.
The 2021 series will begin this Thursday, January 21, at 7:00 p.m. EST, with a webinar by DAN Director of Risk Mitigation Francois Burman titled Emergency Planning: Who Is Responsible for Your Safety? The presentation will cover various mishaps that can occur during diving and travel as well as tips for anticipating, preparing for and successfully managing them.
Future webinars in the series will cover topics including fill station safety, ear barotrauma, DAN research updates, the latest information about COVID-19 and diving, and more. Attendees can look forward to lively 30- to 45-minute presentations followed by questions and discussion.
The webinars will be held on the third Thursday of each month. Keep an eye on the Events page of DAN.org
For more information about upcoming webinars f
ollow DAN on: 
Recorded presentations will remain on DAN's YouTube Channel.
Save the Manatee Club respond to harassment case
The U.S. Fish and Wildlife Service began an investigation this week into an incident of illegal manatee harassment on the Homosassa River, in which perpetrators scratched the word "Trump" into the algae on a manatee's back. The politically-charged message caught the attention of the nation. Save the Manatee Club believes the case also reinforces the need for stricter regulation and increased education regarding the dangers manatees face from harassment and close human interaction.
Legally, "harassment" includes any act that potentially injures, annoys, or disturbs the manatee, or causes a disruption of its natural behavior – such as handling it long enough to scrape five large letters into its back. The offender(s) in this case clearly prevented the manatee from escaping while they did their work. Even worse, the manatee may have been in a sick or stressed state – too weak or unable to get away.
Touching or petting a manatee in the water or aboard a boat can cause the animal to become habituated to approaching people or watercraft. Throughout Florida, guides, tourists, and the general public have been told, however, that it's okay to touch manatees, as long as it's "passive," or with one hand only, or the manatee approaches you first. Unfortunately, this ill-informed approach to passive observation can lead the average swimmer, diver, paddler, or boater to believe that all manatees are fair game to touch.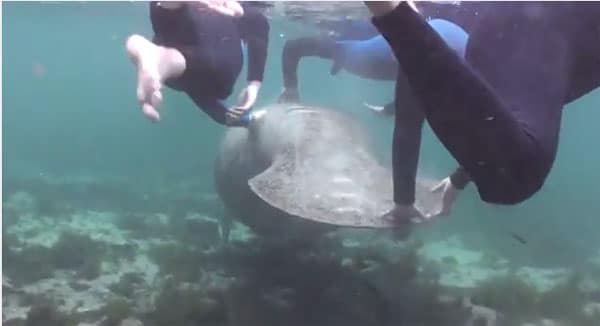 Save the Manatee Club is calling for a change in the regulations and public education on interacting with manatees to a true "hands-off," 100% passive observation as recommended by the U.S. Marine Mammal Commission. Prohibited actions must expand beyond chasing, riding, or poking and include touching and petting. These rules are already in place for whales, dolphins, and other marine mammals, but not yet for imperiled manatees who face many other threats, from watercraft collisions to the loss of vital habitat.
While some manatees are conditioned to human interaction, the vast majority of manatees tend to seek food, rest, and warmth away from people. Disturbance can drive manatees away from warm-water sanctuaries, often with lethal consequences. These areas must be expanded to protect wintering manatees from cold temperatures and harassment.
The public outrage following this incident has shown that people care about the well-being of manatees and support a hands-off policy. Some caring tour operators have voluntarily chosen to adopt this hands-off passive stance and are still successful in offering quality experiences observing manatees. But there are still far too many harmful harassment encounters occurring each and every day.
It is time to follow the lead of the U.S. Marine Mammal Commission and stop allowing this harassment to continue unabated. Save the Manatee Club has aggressively and consistently advocated for stricter policies and increased sanctuaries, but this disgusting letter-scraping incident further confirms that more protections are needed. All human-initiated contact with imperiled manatees needs to stop.
For more information about the work of Save the Manatee Club visit their website by clicking here.
---
Anyone with knowledge of the incident is encouraged to call the Florida Fish and Wildlife Conservation Commission (FWC) at 1-888-404-FWCC (3922). This hotline can also be used to report manatee harassment or to report injured, sick, orphaned, entangled, or dead manatees.
This is the perfect start to your 2021 diving season… and at an incredible lead-in price of just £885 per person.
Jump on board the latest addition to the Emperor fleet and enjoy diving the famous sites of the Red Sea with this fantastic special offer. This itinerary takes in the wonderful South & St Johns from 26 February – 05 March 2021.  
Subject to availability – limited flight seats at this price so don't delay!
Call Diverse Travel on 01473 852002 or email info@diversetravel.co.uk to book your spot!
More
Less