5 Reasons to take your next dive vacation in Cozumel
If you are looking to vacation in the Caribbean, there are many destinations to choose from.  Most have beautiful beaches, clear water, and plenty of sunshine, so how do you choose?  Islands are like people, and they all have different personalities. What makes Cozumel so special?  Well, let me tell you all about it!
What Lies Beneath the Blue Water. Cozumel is a diving and snorkeling mecca, a true paradise discovered in the 1960's by Jacques Cousteau himself. As a diver, I can highly recommend Cozumel for its astonishing clarity, visibility of 100-150 feet, and the glorious "drift". The current is usually a comfortable, pleasing force, allowing one to drift along, whether snorkeling or diving, to see the beauty and color of the reefs. The fish are varied and colorful, and most snorkels and dives fall into the relaxing category.  If looking for more excitement than a lazy drift, check out Punta Sur, The Devil's Throat, and other faster current, deeper dives. The reefs of Cozumel offer both beginners and experts beautiful and exciting diving.
The Laid Back Atmosphere. Sure, you can go to the Caribbean and go to locations where there are late night clubs, dressy venues, and flashy casinos. If that is your desire, find another vacation spot. Cozumel is not flashy, and more often than not, it is quiet after 10 p.m. It is an island of families, and actually has the highest standard of living in Mexico.  The island has a breezy, easy, and very laid back feel to it.  The Mexican standby of, "oh, let's do it tomorrow" (manana, manana) is present on the island. No one is in a rush – there is no hurry scurry in Cozumel.  Take it easy… and while you are at it, take a siesta. Everything will still be there when you wake up.
Amazingly different Eco-Systems. Often, one wonders if the East Side of the Island of Cozumel (the windward side) is the same island as the West Side (facing the mainland, and leeward). The East side of Cozumel has endless sandy beaches, gorgeous blue waters crashing into shore, and low lying, succulent vegetation. It appears to be a different island from the lush, rainforested West side where the waves gently lap onto land.  Visit the North Side of the Island and its lagoons and rare birdlife, a place where roads do not exist and cars cannot go. The interior of the island is still wild, heavily forested, and untainted by civilization. The only developed side of the island is the West Side, though the East Side has a few bars and beach clubs. Cozumel is also a labyrinth of cenotes and underground rivers, though most of them are not readily visible, and only expert cave divers venture in.
Access to the Mainland is easy, as ferries run every hour to Playa del Carmen. It only takes 30-40 minutes to get across the channel. The ferries make access to the Mayan ruins of Tulum and Chichen Itza easily available, and a day on the mainland at the Natural Parks of Xelha (shell-ha) and Ixcaret (Shka-ret) is always fun. Stepping from the ferry onto the dock at Playa del Carmen one can feel the difference in the atmosphere.  The mainland crowds are bigger, the shopping is more intense, and the beach is a busy, busy place.
The Foodie Restaurants. Cozumel has grown and gained in amenities, such as the Jack Niklaus Golf Course and the Country Club, but one of the best changes in Cozumel is the quality of the restaurants. It's not just tacos and chips and salsa anymore.  There have always been nice places to have dinner in Cozumel, but now there is true culinary artistry for traveling Foodies to enjoy.  Restaurants such as La Cocay, Buccano's at Night, Guido's, and Kinta's are blossoming on the island.  La Cocay's Mediterranean ambiance, and their Florentine and Napa Salads are so beautifully presented it seems a travesty to disturb them in order to eat them!  The Lobster Tempura at Buccano's at Night is delectable, Guido's Garlic Bread is legendary on the island, and Kinta's serves local art along with their fantastic Mexican foodie dishes.  The food is worth a trip in itself!
Lobster Tempura is an appetizer….but it served as my entree. Delicious!
They are such artists in their presentation, don't you agree?
Ah, Cozumel.  I shall leave you with a few lyrics from the Cozumel Song, performed in this YouTube video by Luis, a rather well known guitarist on the island:
Navegando por el mar caribe,
Bella isla que yo encontre
Paraiso que todos admiramos,
La bella isla de Cozumel.
Son sus playas divinas tan hermosas.
Es su gente de buen Corazon.
Es la isla mas hermosa del caribe,
Asi es la isla de Cozumel.
Cozumel, Cozumel, bienvenidos a Cozumel!
Cozumel, Cozumel, Welcome to Cozumel!
Check out Villa Coronado – our second home, which we offer as a vacation rental – here.
For more from Tam, visit www.travelswithtam.com.
Caribbean Conservation in Action: Tagging Turtles in the BVI
For centuries, the Japanese artisans have used hawksbill turtle shells to make a variety of trinkets such as eyewear, combs and cigar boxes. By the 1800's, a fad had spread to the America's and Europe to obtain hawksbill shells and green turtle soup had become a delicacy around the world. It wasn't until the late 1970s when the Convention on International Trade in Endangered Species of Wild Fauna and Flora (CITES), the body that regulates cross-border trade in wildlife banned the international commercial trade of sea turtles and in 1978, the United States banned the intentional killing of all sea turtles under the Endangered Species Act.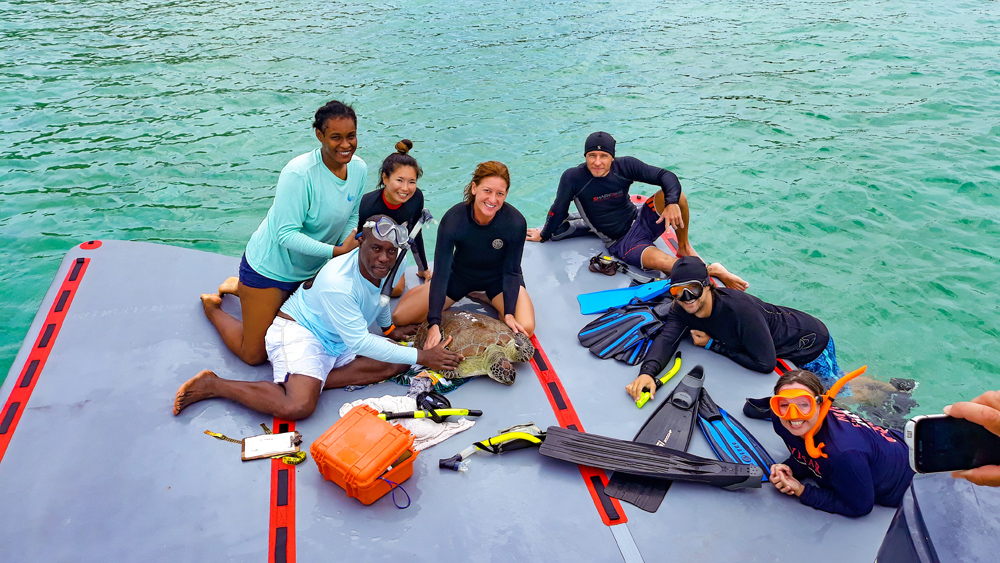 However, In the late 1990s and early 2000s, Japan tried to lift restrictions under CITES to reopen the trade of hawksbill turtle shells with Cuba. Because sea turtles are a regionally shared resource due to their highly migratory range over an individual's lifetime, many Caribbean countries became concerned that Japan and Cuba's proposal would undermine some of the long-standing conservation efforts that had already been implemented. This prompted the United Kingdom to launch the Turtles of the UK Overseas Territories (TCOT) project in 2001 to address critical gaps in the knowledge of marine turtle populations found in all their Caribbean territories (Anguilla, Bermuda, British Virgin Islands, Cayman, Montserrat and Turks & Caicos Islands).
Although the BVI was already monitoring nesting leatherback sea turtles, this 3-year UK-funded project brought a new dimension to turtle monitoring to the BVI and other UK Territories. In-water turtle tagging of foraging populations commenced which identified healthy populations of juvenile to sub-adult (teenage) green and hawksbill turtles in the BVI. Through genetic sampling of those turtles tagged, green turtles were identified as coming from as far away as Ascension Island, Venezuela and Costa Rica with hawksbills coming from Brazil, Barbados, and Cuba. Subsequently, some of the tagged turtles have migrated from the BVI on to their adult foraging grounds and travelled as far as Nicaragua, Bonaire and Guadeloupe.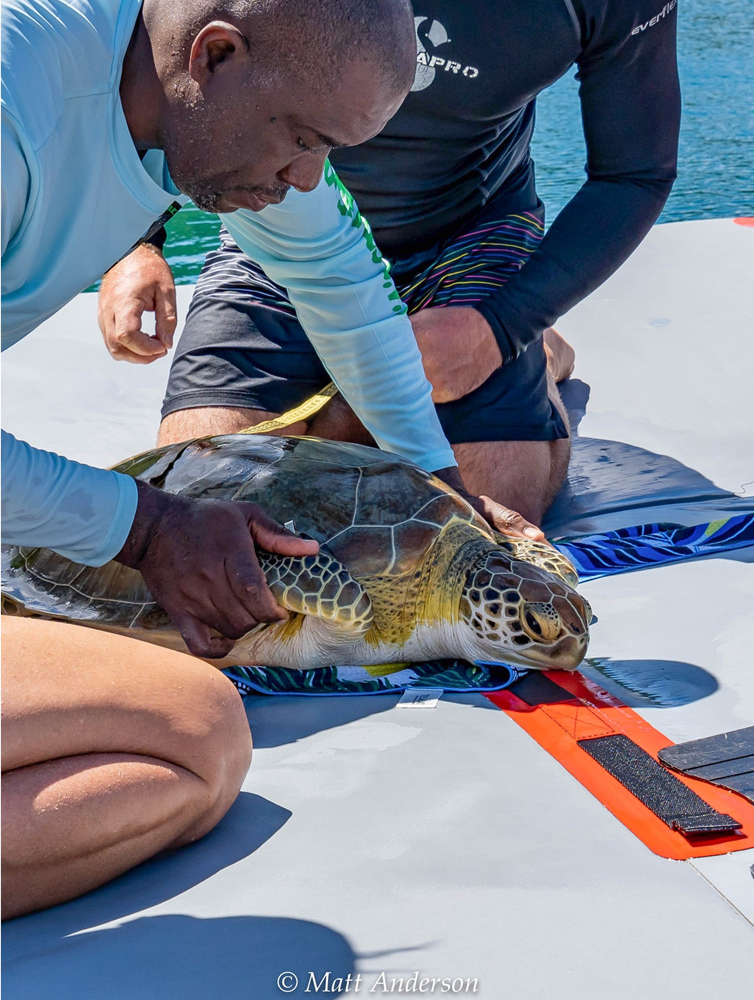 Although the TCOT project ended many years ago, in-water turtle tagging of foraging populations continued over the years. Now, with an extensive baseline of information and a growing need for changes in local sea turtle management, the BVI was awarded a Darwin Plus grant worth over US$300k from the UK's Overseas Territories Environment & Climate Fund in June 2020. This newly implemented STEEL Project (Sustainable turtles, environments, economies & livelihoods) is aimed to ramp up tagging efforts to better understand changes in the status of BVI turtles based on nearly 20 years of data collected. Additionally, foraging turtle habitats will be assessed on how to build resiliency in areas that were impacted by the 2017 hurricane events. An educational programme to provide the community with a better local understanding of turtle conservation will be implemented and, using the MCS Community Voice Method (CVM) of engagement, the project will engage BVI communities to develop new legislation recommendations and a conservation action plan to safeguard BVI's turtle populations for future generations.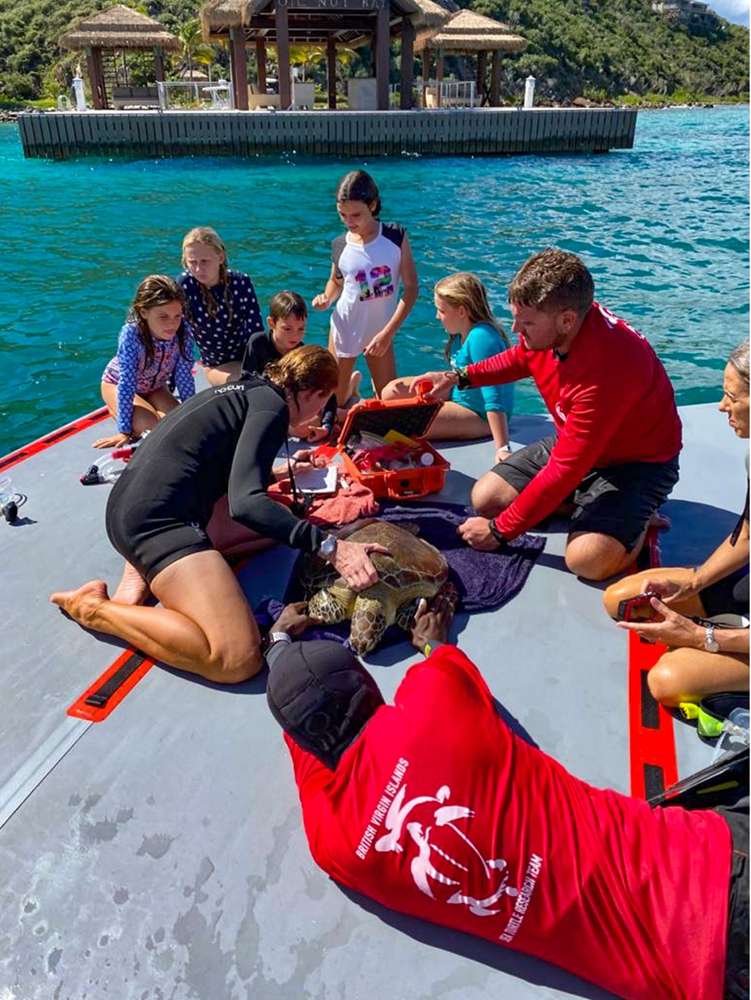 The STEEL Project is being led by the Marine Conservation Society UK alongside local organisation, the Association of Reef Keepers (ARK) and partnerships with the BVI Government's Department of Agriculture and Fisheries and the Ministry of Natural Resources, Labour and Immigration. Additionally, local dive and tour operators such as Sail Caribbean Divers are participating in the project by providing boats and assisting local turtle scientists in capturing, tagging and releasing of sea turtles.
For more information see www.bviark.org
Get moving with the new RAID DPV training programs
The thrill of speeding through the water behind a diver propulsion vehicle (DPV) is an experience that really gets the blood racing. Using a DPV provides divers both immense fun and the means to achieve goals that would be impossible without their use.
RAID is proud to announce the new two-tier DPV training program with certifications for DPV and Advanced DPV.
Why DPV and why now?
Recreational and technical divers are using DPVs to access sites that would be difficult to reach and explore using traditional propulsion methods; to help propel large amounts of heavy equipment; to increase the safety of dives in areas of strong current; or just for the pure exhilaration of shooting through the water at speed and performing underwater acrobatics.
By extending your capabilities and extending your range, using a DPV opens new vistas for exploration and fun.
DPV
This certification option is aimed at the recreational diver who wishes to learn how to use a DPV to enhance their diving by using mainly natural navigation.
Advanced DPV
This certification option is available to anyone who is familiar with longhose configuration, has logged a minimum of 20 dives and is certified as Navigation specialty divers.
This certification option is aimed at the slightly more experienced diver with preexisting navigational training and diving on a single, twin or sidemount setup with a longhose. Although this level is slightly more challenging, the more advanced navigation exercises provide an important base for more complex types of DPV diving within a team.
PREREQUISITES
You must:
Be a minimum of 12 years old.
Be certified as RAID Open Water 20, Junior Open Water or equivalent.
Just visit www.diveRAID.com to put some extra dash into your dives.
This is the perfect start to your 2021 diving season… and at an incredible lead-in price of just £885 per person.
Jump on board the latest addition to the Emperor fleet and enjoy diving the famous sites of the Red Sea with this fantastic special offer. This itinerary takes in the wonderful South & St Johns from 26 February – 05 March 2021.  
Subject to availability – limited flight seats at this price so don't delay!
Call Diverse Travel on 01473 852002 or email info@diversetravel.co.uk to book your spot!
More
Less