Russia bans driftnet fishing, a reprieve for seabirds and marine mammals
On July 1, President Vladimir Putin signed a bill into law banning driftnet fishing in Russian waters.
Driftnets, floating walls of net that are nearly invisible underwater, can be 12 meters high and many kilometers long. They are a kind of gillnet, a mesh that captures fish by the gills, and are primarily used to target large schools of fish. But driftnets are notorious for trapping unintended marine life, including porpoises, dolphins, sea turtles, and an estimated 400,000 seabirds around the world each year, according to the conservation group Birdlife International. Their use has been banned or restricted in many countries territorial waters, and was banned on the high seas in 1992.
In Russia, driftnets are used by Russian and Japanese fishers to capture salmon in the country's Far East. The ban was reportedly intended in part to make more fish available to Russia's coastal salmon fishermen, who employ other fishing methods but whose catches have dropped as a result of driftnetting. It will take effect in January, 2016.
BirdLife International estimates that 140,000 seabirds become trapped and die in driftnets each year in the region, the highest toll of any region globally. Heavily hit species include tufted puffins (Fratercula cirrhata), short-tailed shearwaters (Ardenna tenuirostris), thick-billed murres (Uria lomvia), and crested auklets (Aethia cristatella).
Marine mammals that will benefit from the ban include strikingly marked Dall's porpoises (Phocoenoides dalli) and ribbon seals (Histriophoca fasciata), as well as Pacific white-sided dolphins (Lagenorhynchus obliquidens), according to the group.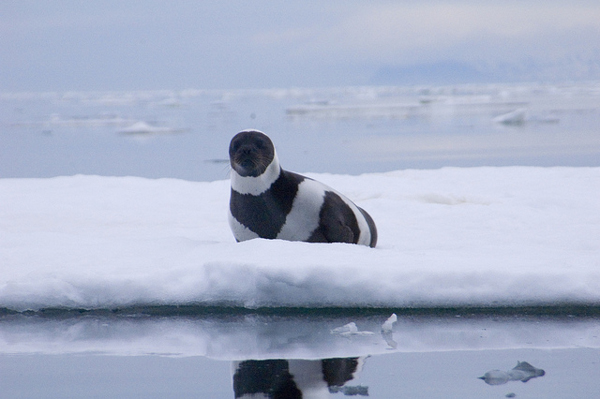 An adult male ribbon seal in eastern Russia's Ozernoy Gulf. Ribbon seals and other marine mammals can become entangled and drown in driftnet fishing gear. Photo credit: Michael Cameron, NOAA/NMFS/AKFSC/NMML.
"The banning of these huge nets in Russian waters is fantastic for an array of wildlife in the northwest Pacific and we support the closure of a fishery with such severe collateral damage to marine wildlife," said Cleo Small, Head of BirdLife's Marine Programme, in a statement.
| | |
| --- | --- |
| | Thick-billed murres, another seabird species often caught in driftnet salmon-fishing gear in Russia waters. Photo credit: Josh Keaton, NOAA/NMFS/AKRO/SFD. |
Other environmental advocates are hailing the ban, as well. "The ban on driftnet fishingl [sic] is a big win for anyone who cares about the conservation of birds, salmon and porpoises in the Russian Far East," Sergey Korostelev, the Marine Program Coordinator of WWF's Kamchatka Bering Sea Ecoregional Office, said in a statement. The group has advocated for such a ban for many years.
The ban has reportedly strained relations between Russia and Japan, whose fishermen, particularly from the northern island of Hokkaido, have fished salmon with driftnets in Russian waters since the 1990s.
Japan's Chief Cabinet Secretary Yoshihide Suga stated last week at a press conference that the law "gives rise to the utmost regret," according to The Moscow Times. It and other outlets have reported that the ban will cost Japan $200 million.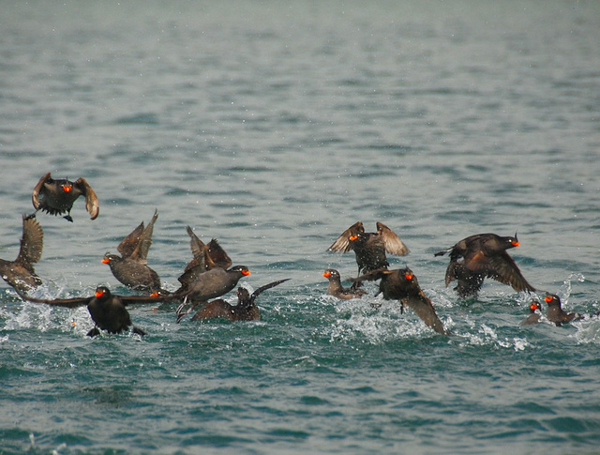 Crested Auklets in Russia's Kuril Islands. Photo credit: Austronesian Expeditions.
Article by Rebecca Kessler. Republished courtesy of Mongabay.org.
Gear Maintenance Episode 4: Backplate and Harness Sponsored by Dive Rite (Watch Video)
Welcome to Gear Maintenance! In this episode I'm showing you how to bring an old, tattered backplate and harness back to life and giving you tips on how you can look after your scuba diving gear.
If you want to support Divers Ready! (for free!) support our sponsor for this series of videos: Dive Rite
To enter to win the XT Lite Backplate and Basic Harness from Dive Rite, you need to:
Subscribe to Divers Ready! if you haven't already: https://www.youtube.com/c/diversready?sub_confirmation=1
Enter the contest here: https://gleam.io/pncFv/dive-rite-xt-lite-backplate-and-harness-giveaway
When a scuba diver switches from a jacket BCD to a Backplate, Harness and Wing system, it can be very hard to switch back! We've packed this video full of hints and tips covering storage, protection, cleaning and maintenance to help you protect the investment you've made in your dive equipment.
Good luck to everyone! D.S.D.O James
---
Subscribe here: http://bit.ly/DiversReady
Liquid Sports announce NEW colours of Hollis F1 LT Fin now in stock
Liquid Sports has announced that the NEW Colours of the Hollis F1 LT fin are now in stock at LS warehouse and ready to ship.
Already available in Grey, the NEW White & Yellow Hollis F1 LT fins have the following features:
• Short blade for easier finning in confined spaces
• Angled strap mounts for comfort & a better transition of power
• Spring heel straps with easy-grip heel tab
• Multiple strap mounting positions for a fine tuned fit
• Vented blade reduces stress while accelerating water over blade
• Generous foot pocket
For more information visit the Liquid Sports website by clicking here.
Sharks Bay Umbi Diving Village is a Bedouin-owned resort with stunning views and a lovely private beach. It is ideal for divers as everything is onsite including the resort's jetty, dive centre and house reef. The warm hospitality makes for a diving holiday like no other. There is an excellent seafood restaurent and beach bar onsite, and with the enormous diversity of the Sharm El Sheikh dive sites and the surrounding areas of the South Sinai, there really is something for every level of diver to enjoy.
More
Less