A weekend in St. Abbs with DiveStay
When I entered the postcode into my satnav given to me by Gary at DiveStay in St Abbs, Scotland and it told me I had a three and a half hour drive before arriving… I sighed, having had a very busy stressful week and having unanticipated the distance between Sheffield and St Abbs and hoped that the diving would be worth it.
The drive actually felt like no time at all, most of it was on the same road down the A1 and there are plenty of nice little towns to call at for a break enroute for those all important 'caffeine stops'. We arrived in St Abbs around 12.30 and dropped all of our equipment at one of the prettiest little harbours I've ever seen and moved the car to the nearest car park (free car park – 20 seconds down the road).
Not long after, the boat arrived: a white and red 11m long catamaran, named Wavedancer II. She had seating on the deck for 12 divers and ample seating inside the wheelhouse which is fitted out to yacht standards (and by this I mean tea, coffee, heating and spacious toilet). We met Gary for the first time, and were welcomed aboard to start our day's diving. We were introduced to all the divers and they were all very friendly despite me and my dive buddy being the only ones not in their local dive group and therefore the 'newbies' on board!
We set sail. The cliffs along Berwickshire's coast are spectacular and seabirds dance alongside the boat diving into the water and then going to rest on the cliffs. It is a truly beautiful landscape and when the sun came out it really came into its own.
It was then time for our much awaited first dive and actually it turned out that it was also the first dive that my partner Ed and I have ever done without a guide in the UK! But it was the perfect place to start, with no current, easy enough to navigate, and SO MUCH to see! I had been told before entering the water that the diving off St Abbs Head is truly excellent in some of the very best sub 30m dive sites in the UK and Europe and that this is due to cold Arctic currents and warmer currents from the south swirling together and supporting diverse and abundant marine life. Even so, I really was not expecting it to be so beautiful. The sites are a Marine Reserve and while diving we saw wrecks, kelp forests, sandy bottoms covered in starfish, huge ballan Wrasse, short spined sea scorpion fish, crabs, lobsters, neon jellyfish, bright purple anemones, flat fish and everything in between. If you are lucky you will even see the seabirds shooting past you under the water as they dive for fish.
Check my YouTube video here for the footage:
We had our eyes peeled from the boat as that same day the group before us in the morning had seen dolphins!
When we surfaced, both myself and Ed were elated, partly because we had survived out first dive alone… but mostly because of how incredible the dive had been. Gary expertly maneuvered the boat to pick us up… and the twin lift, makes getting both you and your buddy out of the buddy effortless.
Back on the boat, there is plenty of help from the lovely 'Duggie' if needed to get your kit back into position, and then you are ushered into the heated…. Yes you read that right… HEATED inside area of the boat. Tea and coffee…. and homemade Scottish shortbread is available in abundance for those surface stop munchies… absolute luxury.
The second dive was just as amazing and I spent the (rather turbulent) journey back to the harbour drinking tea in the warm, chatting with the other divers about all the amazing things we had seen.
We had planned to stay over that night in the Home Arms guesthouse, which is owned by Gary and his lovely wife Zoe. Being able to stay at accommodation, which is linked to the diving is amazing, because everything runs incredibly smoothly. There is an amazing drying room at the BnB and we unloaded all of our dive gear from the boat ready for the next day's diving and went upstairs to our room. The room was HUGE, it had seriously beautiful views over the incredible Eyemouth Bay. It was probably the prettiest BnB we have every stayed in and the perfect place to relax after a day's diving.
Straight outside the guesthouse, you can walk into a beautiful town centre with plenty of picturesque little shops, cafes, pubs and restaurants. We had a beautiful pub dinner overlooking the Bay with a local Scottish lager. A perfect day.
Sunday morning, we had an amazing breakfast at the Home Arms, home-cooked in front of us in the kitchen diner…. And I couldn't believe my luck when they even had vegetarian sausages for me! We were well fed, well slept, and happily ready for another amazing day's diving.
The lovely Mr and Mrs Seal were waiting for us in the harbour to wave us off and yet again we had a fantastic morning diving through some of the most beautiful diving that all of Europe has to offer.
All in all, our weekend with DiveStay and the Home Arms guesthouse couldn't have been any better, and we cannot wait to get our next trip booked to return… and hopefully next time we will be lucky enough to see the resident dolphins.
See www.divestay.co.uk for more information.
Caribbean Conservation in Action: Tagging Turtles in the BVI
For centuries, the Japanese artisans have used hawksbill turtle shells to make a variety of trinkets such as eyewear, combs and cigar boxes. By the 1800's, a fad had spread to the America's and Europe to obtain hawksbill shells and green turtle soup had become a delicacy around the world. It wasn't until the late 1970s when the Convention on International Trade in Endangered Species of Wild Fauna and Flora (CITES), the body that regulates cross-border trade in wildlife banned the international commercial trade of sea turtles and in 1978, the United States banned the intentional killing of all sea turtles under the Endangered Species Act.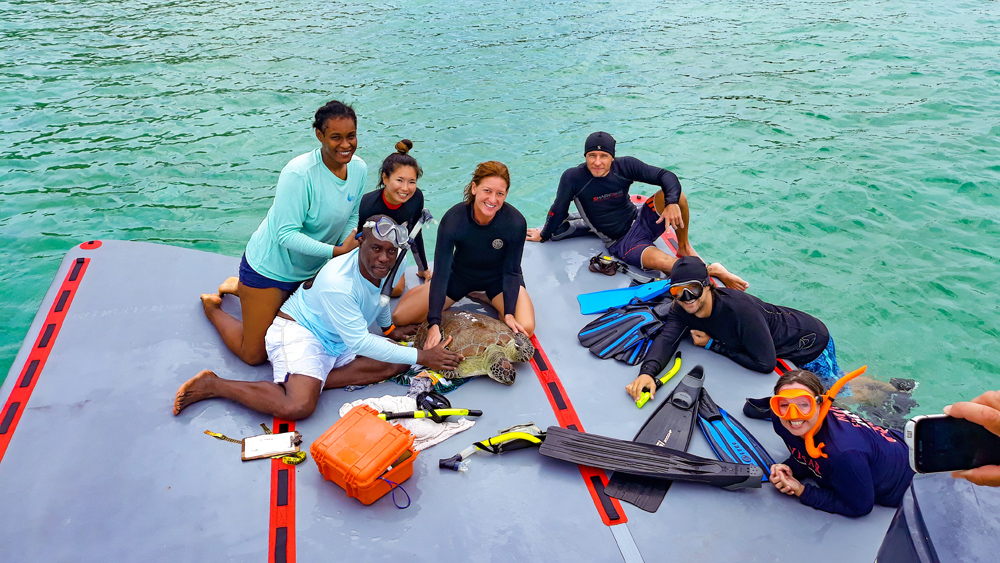 However, In the late 1990s and early 2000s, Japan tried to lift restrictions under CITES to reopen the trade of hawksbill turtle shells with Cuba. Because sea turtles are a regionally shared resource due to their highly migratory range over an individual's lifetime, many Caribbean countries became concerned that Japan and Cuba's proposal would undermine some of the long-standing conservation efforts that had already been implemented. This prompted the United Kingdom to launch the Turtles of the UK Overseas Territories (TCOT) project in 2001 to address critical gaps in the knowledge of marine turtle populations found in all their Caribbean territories (Anguilla, Bermuda, British Virgin Islands, Cayman, Montserrat and Turks & Caicos Islands).
Although the BVI was already monitoring nesting leatherback sea turtles, this 3-year UK-funded project brought a new dimension to turtle monitoring to the BVI and other UK Territories. In-water turtle tagging of foraging populations commenced which identified healthy populations of juvenile to sub-adult (teenage) green and hawksbill turtles in the BVI. Through genetic sampling of those turtles tagged, green turtles were identified as coming from as far away as Ascension Island, Venezuela and Costa Rica with hawksbills coming from Brazil, Barbados, and Cuba. Subsequently, some of the tagged turtles have migrated from the BVI on to their adult foraging grounds and travelled as far as Nicaragua, Bonaire and Guadeloupe.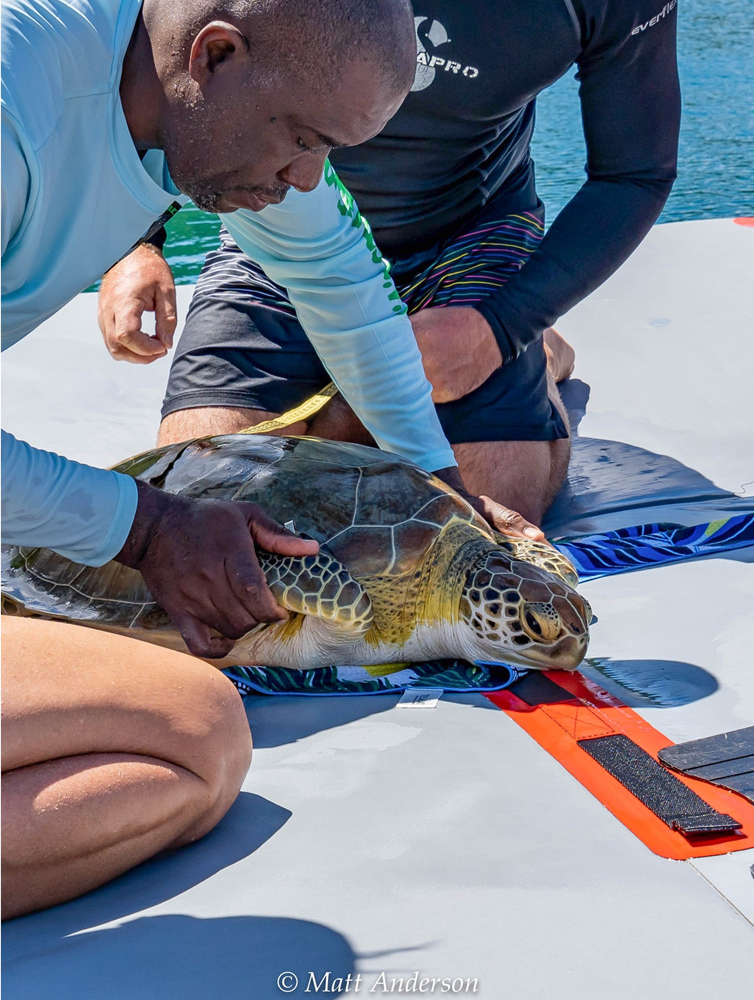 Although the TCOT project ended many years ago, in-water turtle tagging of foraging populations continued over the years. Now, with an extensive baseline of information and a growing need for changes in local sea turtle management, the BVI was awarded a Darwin Plus grant worth over US$300k from the UK's Overseas Territories Environment & Climate Fund in June 2020. This newly implemented STEEL Project (Sustainable turtles, environments, economies & livelihoods) is aimed to ramp up tagging efforts to better understand changes in the status of BVI turtles based on nearly 20 years of data collected. Additionally, foraging turtle habitats will be assessed on how to build resiliency in areas that were impacted by the 2017 hurricane events. An educational programme to provide the community with a better local understanding of turtle conservation will be implemented and, using the MCS Community Voice Method (CVM) of engagement, the project will engage BVI communities to develop new legislation recommendations and a conservation action plan to safeguard BVI's turtle populations for future generations.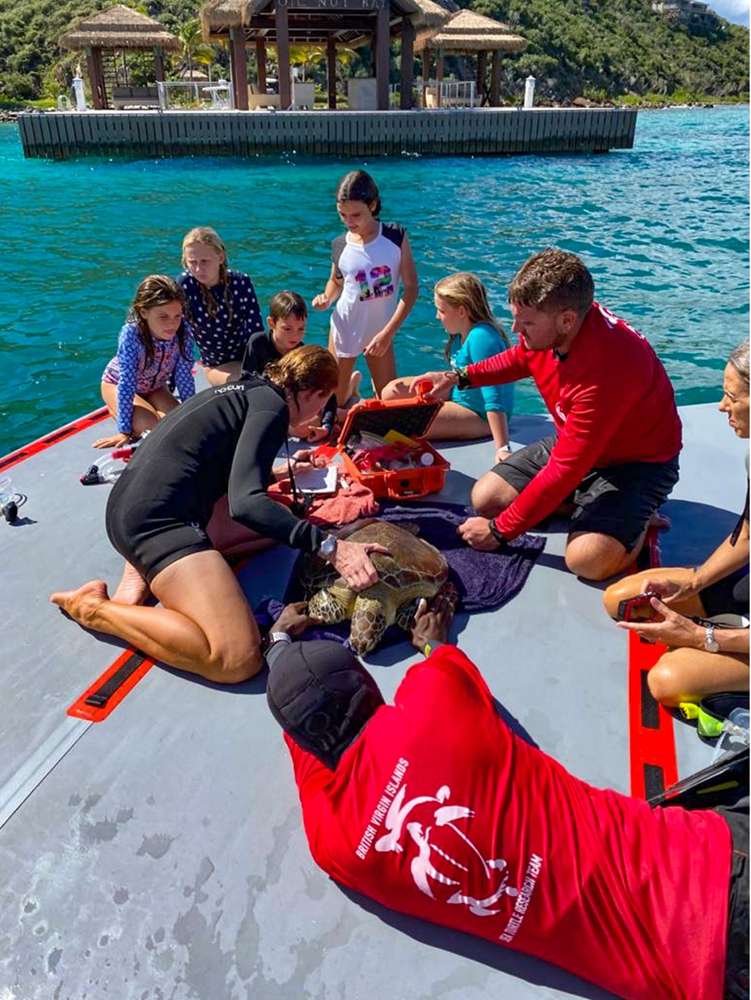 The STEEL Project is being led by the Marine Conservation Society UK alongside local organisation, the Association of Reef Keepers (ARK) and partnerships with the BVI Government's Department of Agriculture and Fisheries and the Ministry of Natural Resources, Labour and Immigration. Additionally, local dive and tour operators such as Sail Caribbean Divers are participating in the project by providing boats and assisting local turtle scientists in capturing, tagging and releasing of sea turtles.
For more information see www.bviark.org
Get moving with the new RAID DPV training programs
The thrill of speeding through the water behind a diver propulsion vehicle (DPV) is an experience that really gets the blood racing. Using a DPV provides divers both immense fun and the means to achieve goals that would be impossible without their use.
RAID is proud to announce the new two-tier DPV training program with certifications for DPV and Advanced DPV.
Why DPV and why now?
Recreational and technical divers are using DPVs to access sites that would be difficult to reach and explore using traditional propulsion methods; to help propel large amounts of heavy equipment; to increase the safety of dives in areas of strong current; or just for the pure exhilaration of shooting through the water at speed and performing underwater acrobatics.
By extending your capabilities and extending your range, using a DPV opens new vistas for exploration and fun.
DPV
This certification option is aimed at the recreational diver who wishes to learn how to use a DPV to enhance their diving by using mainly natural navigation.
Advanced DPV
This certification option is available to anyone who is familiar with longhose configuration, has logged a minimum of 20 dives and is certified as Navigation specialty divers.
This certification option is aimed at the slightly more experienced diver with preexisting navigational training and diving on a single, twin or sidemount setup with a longhose. Although this level is slightly more challenging, the more advanced navigation exercises provide an important base for more complex types of DPV diving within a team.
PREREQUISITES
You must:
Be a minimum of 12 years old.
Be certified as RAID Open Water 20, Junior Open Water or equivalent.
Just visit www.diveRAID.com to put some extra dash into your dives.
This is the perfect start to your 2021 diving season… and at an incredible lead-in price of just £885 per person.
Jump on board the latest addition to the Emperor fleet and enjoy diving the famous sites of the Red Sea with this fantastic special offer. This itinerary takes in the wonderful South & St Johns from 26 February – 05 March 2021.  
Subject to availability – limited flight seats at this price so don't delay!
Call Diverse Travel on 01473 852002 or email info@diversetravel.co.uk to book your spot!
More
Less