Video Series: The CCMI Reef Lectures – Part 3 (Watch Video)
Introduced by Jeff Goodman
Never before since human beings have had major influence over our earths climate and environments, have we come to so close to the brink of global disaster for our seas and marine life. We need to act now if we are not going to crash headlong into irreversible scenarios.
A good start to this is understanding how the marine environment works and what it means to our own continued survival. We can only do this by listening and talking to those with the experience and knowledge to guide us in the right direction.
CCMI (Central Caribbean Marine Institute) are hosting an annual Reef Lecture series that is open to the general public and Scubaverse will be sharing those lectures over the coming months.
---
Part 3: Coral Health: from microbes to branches – Dr. Anya Brown
Healthy corals are critical for sustaining reefs. Corals are in a tightly coupled relationship between bacteria (like in your gut!), microscopic algae, and the coral animal itself. This seminar, presented by collaborative scientist Dr. Anya Brown, focused on trade-offs between types of coral growth, a coral disease outbreak, and what clues the microbes on corals tell us about their health.
Dr. Anya Brown is currently in the Ewel Postdoctoral Fellowship Program in Ecology and Environmental Science at the University of Florida.
---
For more information about the CCMI click here.
Jeff chats to… Louis Hagger, second place winner of the See You at the Sea Festival Film Competition (Watch Video)
In this exclusive Zoom interview, Jeff Goodman, Scubaverse Editor-at-large, chats to Louis Hagger, second place winner of the See You at the Sea Festival Film Competition.The See you at the Sea Festival was an online film festival created by young people, for young people.
Louis' film – Uncovering Cornwall's Little Known Oceans – can be seen here:
Third in a series of six videos about the competition. Watch the first video HERE with Jenn Sandiford – Youth Engagement Officer with the Your Shore Beach Rangers Project and the Cornwall Wildlife Trust – to find out more about the Competition. Each day this week we will be sharing one video in which Jeff talks with the young contestants about their films and what inspired them.
---
For more information please visit:
Save the Manatee Club respond to harassment case
The U.S. Fish and Wildlife Service began an investigation this week into an incident of illegal manatee harassment on the Homosassa River, in which perpetrators scratched the word "Trump" into the algae on a manatee's back. The politically-charged message caught the attention of the nation. Save the Manatee Club believes the case also reinforces the need for stricter regulation and increased education regarding the dangers manatees face from harassment and close human interaction.
Legally, "harassment" includes any act that potentially injures, annoys, or disturbs the manatee, or causes a disruption of its natural behavior – such as handling it long enough to scrape five large letters into its back. The offender(s) in this case clearly prevented the manatee from escaping while they did their work. Even worse, the manatee may have been in a sick or stressed state – too weak or unable to get away.
Touching or petting a manatee in the water or aboard a boat can cause the animal to become habituated to approaching people or watercraft. Throughout Florida, guides, tourists, and the general public have been told, however, that it's okay to touch manatees, as long as it's "passive," or with one hand only, or the manatee approaches you first. Unfortunately, this ill-informed approach to passive observation can lead the average swimmer, diver, paddler, or boater to believe that all manatees are fair game to touch.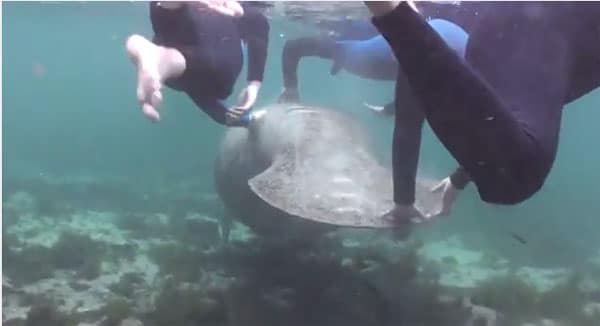 Save the Manatee Club is calling for a change in the regulations and public education on interacting with manatees to a true "hands-off," 100% passive observation as recommended by the U.S. Marine Mammal Commission. Prohibited actions must expand beyond chasing, riding, or poking and include touching and petting. These rules are already in place for whales, dolphins, and other marine mammals, but not yet for imperiled manatees who face many other threats, from watercraft collisions to the loss of vital habitat.
While some manatees are conditioned to human interaction, the vast majority of manatees tend to seek food, rest, and warmth away from people. Disturbance can drive manatees away from warm-water sanctuaries, often with lethal consequences. These areas must be expanded to protect wintering manatees from cold temperatures and harassment.
The public outrage following this incident has shown that people care about the well-being of manatees and support a hands-off policy. Some caring tour operators have voluntarily chosen to adopt this hands-off passive stance and are still successful in offering quality experiences observing manatees. But there are still far too many harmful harassment encounters occurring each and every day.
It is time to follow the lead of the U.S. Marine Mammal Commission and stop allowing this harassment to continue unabated. Save the Manatee Club has aggressively and consistently advocated for stricter policies and increased sanctuaries, but this disgusting letter-scraping incident further confirms that more protections are needed. All human-initiated contact with imperiled manatees needs to stop.
For more information about the work of Save the Manatee Club visit their website by clicking here.
---
Anyone with knowledge of the incident is encouraged to call the Florida Fish and Wildlife Conservation Commission (FWC) at 1-888-404-FWCC (3922). This hotline can also be used to report manatee harassment or to report injured, sick, orphaned, entangled, or dead manatees.
This is the perfect start to your 2021 diving season… and at an incredible lead-in price of just £885 per person.
Jump on board the latest addition to the Emperor fleet and enjoy diving the famous sites of the Red Sea with this fantastic special offer. This itinerary takes in the wonderful South & St Johns from 26 February – 05 March 2021.  
Subject to availability – limited flight seats at this price so don't delay!
Call Diverse Travel on 01473 852002 or email info@diversetravel.co.uk to book your spot!
More
Less