Save the Manatee Club respond to harassment case
The U.S. Fish and Wildlife Service began an investigation this week into an incident of illegal manatee harassment on the Homosassa River, in which perpetrators scratched the word "Trump" into the algae on a manatee's back. The politically-charged message caught the attention of the nation. Save the Manatee Club believes the case also reinforces the need for stricter regulation and increased education regarding the dangers manatees face from harassment and close human interaction.
Legally, "harassment" includes any act that potentially injures, annoys, or disturbs the manatee, or causes a disruption of its natural behavior – such as handling it long enough to scrape five large letters into its back. The offender(s) in this case clearly prevented the manatee from escaping while they did their work. Even worse, the manatee may have been in a sick or stressed state – too weak or unable to get away.
Touching or petting a manatee in the water or aboard a boat can cause the animal to become habituated to approaching people or watercraft. Throughout Florida, guides, tourists, and the general public have been told, however, that it's okay to touch manatees, as long as it's "passive," or with one hand only, or the manatee approaches you first. Unfortunately, this ill-informed approach to passive observation can lead the average swimmer, diver, paddler, or boater to believe that all manatees are fair game to touch.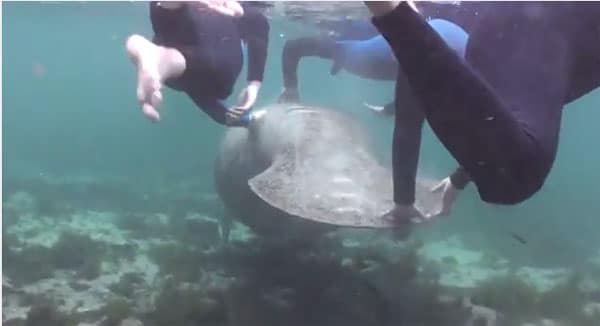 Save the Manatee Club is calling for a change in the regulations and public education on interacting with manatees to a true "hands-off," 100% passive observation as recommended by the U.S. Marine Mammal Commission. Prohibited actions must expand beyond chasing, riding, or poking and include touching and petting. These rules are already in place for whales, dolphins, and other marine mammals, but not yet for imperiled manatees who face many other threats, from watercraft collisions to the loss of vital habitat.
While some manatees are conditioned to human interaction, the vast majority of manatees tend to seek food, rest, and warmth away from people. Disturbance can drive manatees away from warm-water sanctuaries, often with lethal consequences. These areas must be expanded to protect wintering manatees from cold temperatures and harassment.
The public outrage following this incident has shown that people care about the well-being of manatees and support a hands-off policy. Some caring tour operators have voluntarily chosen to adopt this hands-off passive stance and are still successful in offering quality experiences observing manatees. But there are still far too many harmful harassment encounters occurring each and every day.
It is time to follow the lead of the U.S. Marine Mammal Commission and stop allowing this harassment to continue unabated. Save the Manatee Club has aggressively and consistently advocated for stricter policies and increased sanctuaries, but this disgusting letter-scraping incident further confirms that more protections are needed. All human-initiated contact with imperiled manatees needs to stop.
For more information about the work of Save the Manatee Club visit their website by clicking here.
---
Anyone with knowledge of the incident is encouraged to call the Florida Fish and Wildlife Conservation Commission (FWC) at 1-888-404-FWCC (3922). This hotline can also be used to report manatee harassment or to report injured, sick, orphaned, entangled, or dead manatees.
The BiG Scuba Podcast… with Julianne Zielfle
Ian and Gemma chat about what they have been up to and we hear from a caller on The BiG Scuba Bat Phone. Our guest is Julianne Zielfle. Julianne became a certified diver in 1985 and she is an award-winning speaker, photographer and media professional. She first appeared in dive magazines in the late 1980s when she met Stephen Frink. She worked on Cousteau's Campaign on Rights of Future Generations in 1994. She co-chaired the Hans Hass Film Festival and was co-creator of the Dive Industry Awards Gala in 2000. She has been helping schools in the South Pacific since 1992 and teaches in her local school district. In 1999, she was recognized by D.A.N. with the Outstanding Volunteer of the Year Award.
You can follow Julianne Zielfle on Facebook here.
---
Find more podcast episodes and information at www.thebigscuba.com and on most social platforms @thebigscuba 
Jeff chats to… Marine Biologist and Underwater Videographer Jake Davies (Watch Video)
In this exclusive Zoom interview, Jeff Goodman, Scubaverse Editor-at-Large, chats to Jake Davies, Marine Biologist, HSE Professional scuba diver, underwater videographer (using videos and 360 clips for VR) and CAA licensed drone pilot. 
Jake grew up on Pen Llŷn, North Wales and coming from a maritime family meant that from a young age the underwater world and marine life have played a major role in his life. His interest in marine life and the sea led to him studying Marine Biology at Bangor University where he was successful in obtaining a year in industry with the Intertidal & Coastal team at Natural Resources Wales.
​In 2017 Jake was successfully awarded a Sea-Changers Grant to run 'Dive Into Monitoring: Seagrass' surveys with SeaSearch North Wales. The surveys aimed to gather updated information on the Seagrass bed in Porthdinllaen with volunteer divers and local dive clubs.
As a media diver, Jake has worked as part of the dive team (Marine Ecosol) filming for BBC Wales Hidden Wales with Will Millard (Lazerbeam Productions & Folk Films).
Footage which Jake has filmed off the Welsh Coast, as well as the Canary Islands, has been featured for a variety of BBC programmes including an episode of Countryfile where he was interviewed about the Seagrass in Porthdinllaen, Wales along with the rest of the Project Seagrass team. He is also a blogger and contributor to Scubaverse @JDScuba, and a co-director of Under Water Wales @dandwrcymru.
​As well as being a HSE Scuba Diver Jake is also employed as the Project Coordinator for Angel Shark Project: Wales. He is also a Project Leader on a Save Our Seas Foundation Project.
​Through sharing underwater videos and photos of amazing and unique wildlife/habitats that are found beneath the waves along the Welsh Coast as well as abroad Jake hopes to inspire people to go beneath the waves and making the underwater world more accessible for all.
Find out more about Jake and his work at: https://jakeddavies1996.wixsite.com/jdscuba
---
Rather listen to a podcast? Listen to the audio HERE on the new Scubaverse podcast channel at Anchor FM.
Explore the amazing triangle of Red Sea Reefs - The Brothers, Daedalus and Elphinstone on board the brand new liveaboard Big Blue.  With an option to add on a week at Roots Red Sea before or after. 
Strong currents and deep blue water are the catalysts that bring the pelagic species flocking to these reefs. The reefs themselves provide exquisite homes for a multitude of marine life.  The wafting soft corals are adorned with thousands of colourful fish. The gorgonian fans and hard corals provide magnificent back drops, all being patrolled by the reef's predatory species.
£1475 per person based on double occupancy.  Soft all inclusive board basis, buffet meals with snacks, tea and coffee always available.  Add a week on at Roots Red Sea Resort before or after the liveaboard for just £725pp.  Flights and transfers are included.  See our brochure linked above for the full itinerary.
This trip will be hosted by The Scuba Place.  Come Dive with Us!
Call 020 3515 9955 or email john@thescubaplace.co.uk
www.thescubaplace.co.uk
More
Less