Tigers, Great Whites and the Galapagos Sharks have been known to attack divers.  They don't necessarily intend to eat the neoprene wrapped human, but the simple act of tasting is usually fatal.  I survived my meetings intact but they left me with a deep concern that I might die diving and that my remains might not be found and identified for a long time.
In the case of the Tiger Shark, it was late summer in 2013 and I was diving with three experienced Fort Myers divers– a cop, a bondsman and female underwater archaeologist. We were three hours out into the Gulf of Mexico from Sanibel Island. It was hot, the seas were up and storm clouds were blowing through the area. We jumped into the sea, grabbed onto the anchor line and pulled ourselves downwards. The boat was empty, bouncing in the incoming waves. My companions were going to spearfish; I was going to photograph them catching their dinners.
There was an artificial reef made from long concrete pilings 60 feet down. Before we reached the bottom  we were surrounded by frenzied schooling fish madly swimming between our legs, over our arms and buzzing past our heads.
Fish faces don't usually show expression, but, these metre long fish looked frantic, and with good reason.  As we punched through the thrashing ring we could see through the gloom a large 8 ft tiger shark herding the fish. Behind the tiger were four smaller sharks, including a 6 ft bull shark. They were the next step down in the food chain – following the hunting tiger for bloody seconds.
We touched bottom and instinctively formed a circle, our backs touching and fronts facing the lazily circling sharks. I had a cop on one side and a huge bails bondman on the other. The young archeologist was gone, she had somehow gone missing.
The sharks continued to circle us in the gloomy warm turbid water, just within eyesight. Spear guns were put away and through pointing and sign language we decided to surface, hoping to find our companion on the boat.
Swimming upward we encountered a strong current. Breaking the surface we looked for the craft.  Rough seas had pushed us a mile away from the anchored dive boat.  It was so far away we could only see the boat when we bobbed on the crest of a wave and looked down at her in the trough of another wave.
With waves splashing hard into our faces, we had to continue to breath through our regulators as we started a long difficult swim against the current. It was a tough slog, made more difficult by the sharks that swam 2 or 3 feet directly below us. My companions disappeared under the waves several times to push at the pesky sharks with the butt ends of their guns.
It took 40-minutes to almost reach the stern of the boat. A few feet from safety I ran out of air.  I was dragged to the ladder by my buddy. Climbing into the boat I called down into the cabin for our fourth diver. No answer. She wasn't there.
We all stood and searched the horizon for an SMB. North. South. East and West. Nothing. We were going to issue a May Day when suddenly we could hear her yelling far off the stern.
Our missing diver was coming home. She swam through the same sharks that had escorted us to the boat. She climbed exhausted aboard. Smaller and lighter than we oversized men, the current blew her farther away from the boat as she surfaced.
It was a long, bumpy butt-busting ride back to Sanibel Island.  Three hours in 6 ft swells.  Time enough to plan my next dental visit.
Caribbean Conservation in Action: Tagging Turtles in the BVI
For centuries, the Japanese artisans have used hawksbill turtle shells to make a variety of trinkets such as eyewear, combs and cigar boxes. By the 1800's, a fad had spread to the America's and Europe to obtain hawksbill shells and green turtle soup had become a delicacy around the world. It wasn't until the late 1970s when the Convention on International Trade in Endangered Species of Wild Fauna and Flora (CITES), the body that regulates cross-border trade in wildlife banned the international commercial trade of sea turtles and in 1978, the United States banned the intentional killing of all sea turtles under the Endangered Species Act.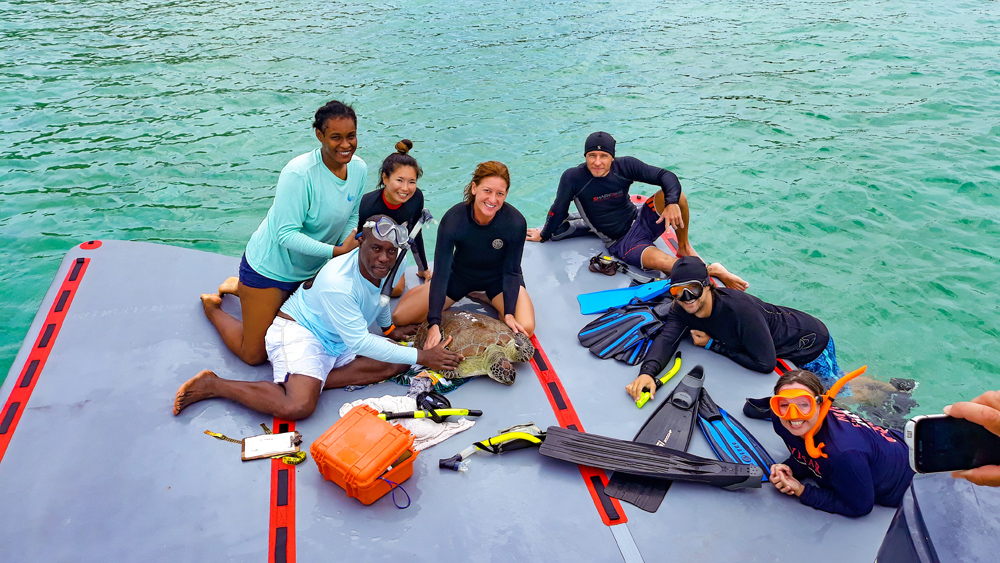 However, In the late 1990s and early 2000s, Japan tried to lift restrictions under CITES to reopen the trade of hawksbill turtle shells with Cuba. Because sea turtles are a regionally shared resource due to their highly migratory range over an individual's lifetime, many Caribbean countries became concerned that Japan and Cuba's proposal would undermine some of the long-standing conservation efforts that had already been implemented. This prompted the United Kingdom to launch the Turtles of the UK Overseas Territories (TCOT) project in 2001 to address critical gaps in the knowledge of marine turtle populations found in all their Caribbean territories (Anguilla, Bermuda, British Virgin Islands, Cayman, Montserrat and Turks & Caicos Islands).
Although the BVI was already monitoring nesting leatherback sea turtles, this 3-year UK-funded project brought a new dimension to turtle monitoring to the BVI and other UK Territories. In-water turtle tagging of foraging populations commenced which identified healthy populations of juvenile to sub-adult (teenage) green and hawksbill turtles in the BVI. Through genetic sampling of those turtles tagged, green turtles were identified as coming from as far away as Ascension Island, Venezuela and Costa Rica with hawksbills coming from Brazil, Barbados, and Cuba. Subsequently, some of the tagged turtles have migrated from the BVI on to their adult foraging grounds and travelled as far as Nicaragua, Bonaire and Guadeloupe.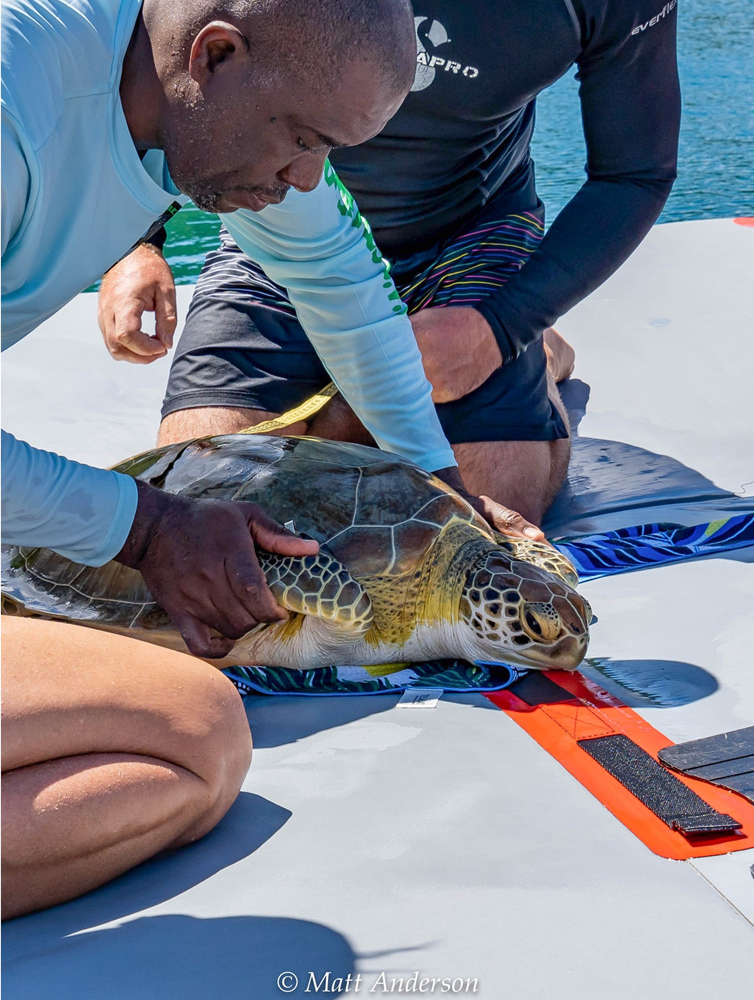 Although the TCOT project ended many years ago, in-water turtle tagging of foraging populations continued over the years. Now, with an extensive baseline of information and a growing need for changes in local sea turtle management, the BVI was awarded a Darwin Plus grant worth over US$300k from the UK's Overseas Territories Environment & Climate Fund in June 2020. This newly implemented STEEL Project (Sustainable turtles, environments, economies & livelihoods) is aimed to ramp up tagging efforts to better understand changes in the status of BVI turtles based on nearly 20 years of data collected. Additionally, foraging turtle habitats will be assessed on how to build resiliency in areas that were impacted by the 2017 hurricane events. An educational programme to provide the community with a better local understanding of turtle conservation will be implemented and, using the MCS Community Voice Method (CVM) of engagement, the project will engage BVI communities to develop new legislation recommendations and a conservation action plan to safeguard BVI's turtle populations for future generations.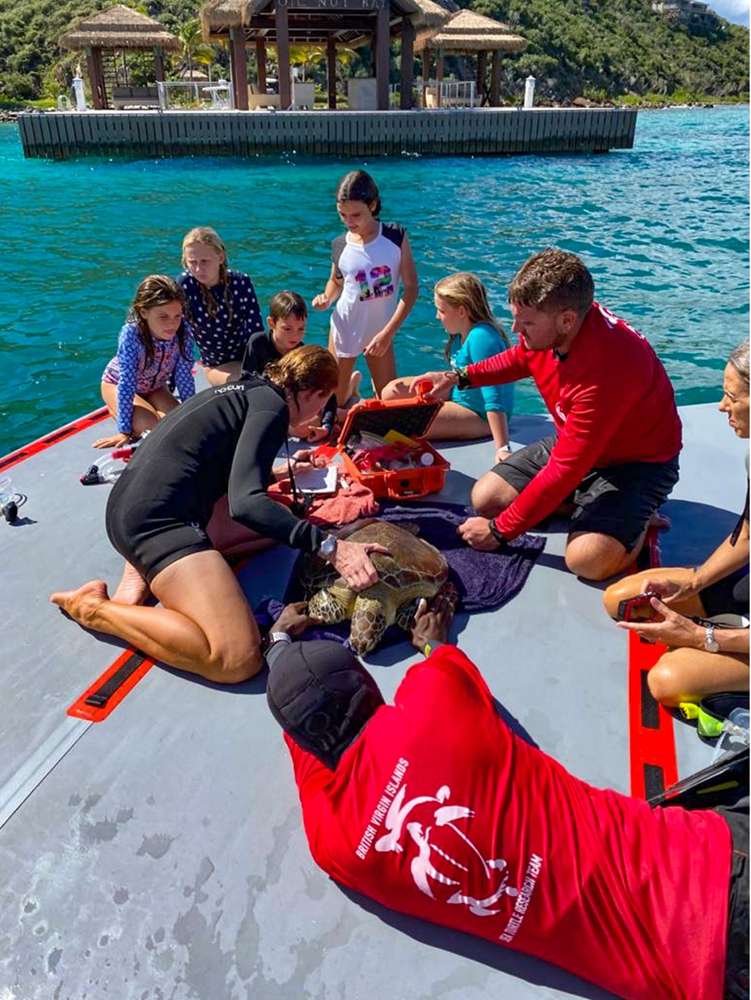 The STEEL Project is being led by the Marine Conservation Society UK alongside local organisation, the Association of Reef Keepers (ARK) and partnerships with the BVI Government's Department of Agriculture and Fisheries and the Ministry of Natural Resources, Labour and Immigration. Additionally, local dive and tour operators such as Sail Caribbean Divers are participating in the project by providing boats and assisting local turtle scientists in capturing, tagging and releasing of sea turtles.
For more information see www.bviark.org
Beers raise cash for ocean clean-up
The Driftwood Spars Brewery, a pioneering microbrewery based on the North Cornwall coast, is donating a percentage of all profits from its Cove range of beers to Fathoms Free, a certified charity which actively cleans the ocean around the Cornish peninsula.
Each purchase of the small-batch, craft beers – there are four different canned beers in the Cove range –
will help generate funds to purchase a remotely operated vehicle (ROV) and fund retrieval dives; every brew will raise the equivalent cost of a fully-funded dive.
Fathoms Free is a Cornwall-based charity whose day-to-day mission involves dives from their fast-response specialist vessel to recover ghost fishing gear; abandoned nets, pots, angling equipment and other plastic causes severe damage to the marine environment and the death of countless seabirds, seals, dolphins and other sea life.
The campaign to raise funds for an ROV is a new initiative which will take the clean-up work to a new level; the highly manoeuvrable underwater vehicle will be used to scour the seabed, harbours and remote parts of the coastline for abandoned fishing gear and other marine litter.
Project Manager Natallia Paliakova from Fathoms Free said: "Apart from helping us locate ghost gear underwater, the ROV will also be capable of recording underwater video which is always great for raising awareness about marine pollution issues."
She added: "We are really excited to be partnering with The Driftwood Spars Brewery and appreciate the proactive support of Mike and his team in bringing the purchase of an ROV a step closer to reality."
Head Brewer Mike Mason personally approached the charity after their work was featured on the BBC 2 documentary, 'Cornwall with Simon Reeve'.
He said: "As a keen surfer I am only too aware of the problem of marine litter and had heard about Fathoms Free, but seeing them in action prompted me to find a way of contributing. The scale of the challenge is scary, but the determination of organisations like Fathoms Free is inspiring."
The Driftwood Spars Brewery was founded in 2000 in Trevaunance Cove, St Agnes; the microbrewery is just a few steps away from it's co-joined brewpub, The Driftwood Spars; both pub and brewery are well-regarded far beyond the Cornish cove they call home.
You can hear the waves and taste the salt on the air from the door of both brewery and pub, and the rough seas along the rugged North coast often throw up discarded nets and other detritus; Louise Treseder, Landlady of The Driftwood Spars and a keen sea swimmer, often collects washed up ghost gear on her daily beach excursions.
Louise commented: "This is a great partnership to support a cause close to our hearts – I know the money we raise will have a positive and lasting impact. The Cove range was inspired by our unique surroundings and the artwork – by local artist Jago Silver – reflects that. Now donations from each purchase will contribute towards the vital ocean clean-up taking place right on our doorstep."
The Cove range can currently be purchased online here, and is available in good independent bottle shops in Cornwall.
To find out more about Fathoms Free visit their website here.
This is the perfect start to your 2021 diving season… and at an incredible lead-in price of just £885 per person.
Jump on board the latest addition to the Emperor fleet and enjoy diving the famous sites of the Red Sea with this fantastic special offer. This itinerary takes in the wonderful South & St Johns from 26 February – 05 March 2021.  
Subject to availability – limited flight seats at this price so don't delay!
Call Diverse Travel on 01473 852002 or email info@diversetravel.co.uk to book your spot!
More
Less