Golden Dreams and Majestic Sirens: Our Last Hurrah in Beautiful Fiji
The final diving location on our tour of Fiji was at Volivoli Beach Resort, near Rakiraki on the main Fijian island of Viti Levu. After a 4 hour drive from Waidroka, it was lovely to be so warmly greeted by all the staff here.
The resort is owned by the Darling family, and we met up with Steve Snr, and his sons, Nick and Steve, along with Fiji Siren Operations Manager, Simon Doughty, for a welcome beer in their newly re-opened restaurant and bar. Volivoli was severely damaged by a particularly destructive cyclone that hit Fiji earlier in the year, and only opened its doors to the public again at the beginning of November. Despite this, they have just won the prestigious award of "Most Outstanding Dive Resort, Fiji 2016" and you can see why, with the new rooms beautifully appointed, a superb pool and great food coming out of the kitchen.
We were worried that we might not get to sample the diving here, as a storm was brewing and the rain had been falling heavily and steadily all day. Taking our gear down to the dive shop, we were given a small ray of hope, with the staff saying they would do everything they could do get us out on the local reefs (but alas some of the more spectacular sites here were going to have to wait).
The dive centre is immaculate; you could eat your dinner off the floor of their impressive compressor room – we kid you not! Now, we just had to keep everything crossed that the morning would bring better weather. The team assured us that either way, they would come and let us know at breakfast. We decided to be positive, and somewhat optimistically, went to setup our camera equipment before dinner.
The next morning we received the good news we had hoped for – the diving was on. With other divers choosing to have a lie-in, we had the boat to ourselves in the morning and the crew took us to see two beautiful reefs. Many people thought the reefs would be badly damaged here after such a massive storm earlier in the year, but even close to shore, there is no sign of this. It was overcast, and the sea was a little rough, but once underwater, the scenery was exceptional. Once again, Fiji was proving to us that its colourful reefs are some of the best in the world. We dived at Neptune's Rhapsody and Hakuna Matata, and as we slowly circled the reef walls, barracuda schooled in the distance. Our afternoon dive saw us being joined by Nick Darling, and a further 5 divers. We descended onto Golden Dream dive site, so named because of the orange soft corals that thrive here, and soon our guide was pointing out nudibranchs, morays, and even ghost pipefish. But the highlight of the dive was a pair of octopuses displaying on the reef, changing colour and shape as the ascended with us and continued to perform on the safety stop.
Here is a video of one of the octopus by Nick Darling:
Volivoli and Ra Divers have 3 boats, which means that they can handle over 30 divers at any one time. In addition to this, Fiji Siren also runs from here, so ideally you could do a week or 10 days aboard this sumptuous live-aboard, and then spend some time on land, exploring the local reefs and wonderful countryside.
On our final day of diving, we ran out of luck and the weather finally caught up with us. Diving was cancelled for the day, due to high winds and lots more rain, so instead Simon Doughty offered to give us a tour of the majestic Fiji Siren. She had all her sails and soft furnishing packed away, in "cyclone mode" to lessen any potential damage. Still, though, she is an impressive sight. Built only 3 years ago, she carries 16 divers on trips that take in some of the best diving Fiji has to offer.
Alas, it was once again time to move on, and this time, to start our long journey home.
www.sirenfleet.com/liveaboards/fiji-siren
Find out more about Nick and Caroline at www.frogfishphotography.com.
DAN launches 2021 webinar series
Divers Alert Network (DAN) has launched a new series of live monthly webinars on its YouTube channel, DAN TV.
Throughout 2021, experts from DAN's Research, Risk Mitigation, and Medical Services teams will give presentations on topics relevant to divers, dive pros and dive business owners as we look beyond the COVID-19 pandemic and resume diving and traveling.
The 2021 series will begin this Thursday, January 21, at 7:00 p.m. EST, with a webinar by DAN Director of Risk Mitigation Francois Burman titled Emergency Planning: Who Is Responsible for Your Safety? The presentation will cover various mishaps that can occur during diving and travel as well as tips for anticipating, preparing for and successfully managing them.
Future webinars in the series will cover topics including fill station safety, ear barotrauma, DAN research updates, the latest information about COVID-19 and diving, and more. Attendees can look forward to lively 30- to 45-minute presentations followed by questions and discussion.
The webinars will be held on the third Thursday of each month. Keep an eye on the Events page of DAN.org
For more information about upcoming webinars f
ollow DAN on: 
Recorded presentations will remain on DAN's YouTube Channel.
Save the Manatee Club respond to harassment case
The U.S. Fish and Wildlife Service began an investigation this week into an incident of illegal manatee harassment on the Homosassa River, in which perpetrators scratched the word "Trump" into the algae on a manatee's back. The politically-charged message caught the attention of the nation. Save the Manatee Club believes the case also reinforces the need for stricter regulation and increased education regarding the dangers manatees face from harassment and close human interaction.
Legally, "harassment" includes any act that potentially injures, annoys, or disturbs the manatee, or causes a disruption of its natural behavior – such as handling it long enough to scrape five large letters into its back. The offender(s) in this case clearly prevented the manatee from escaping while they did their work. Even worse, the manatee may have been in a sick or stressed state – too weak or unable to get away.
Touching or petting a manatee in the water or aboard a boat can cause the animal to become habituated to approaching people or watercraft. Throughout Florida, guides, tourists, and the general public have been told, however, that it's okay to touch manatees, as long as it's "passive," or with one hand only, or the manatee approaches you first. Unfortunately, this ill-informed approach to passive observation can lead the average swimmer, diver, paddler, or boater to believe that all manatees are fair game to touch.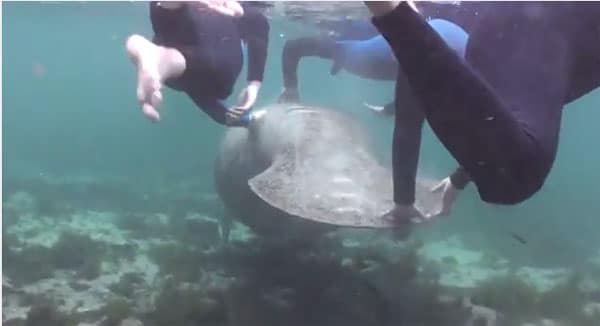 Save the Manatee Club is calling for a change in the regulations and public education on interacting with manatees to a true "hands-off," 100% passive observation as recommended by the U.S. Marine Mammal Commission. Prohibited actions must expand beyond chasing, riding, or poking and include touching and petting. These rules are already in place for whales, dolphins, and other marine mammals, but not yet for imperiled manatees who face many other threats, from watercraft collisions to the loss of vital habitat.
While some manatees are conditioned to human interaction, the vast majority of manatees tend to seek food, rest, and warmth away from people. Disturbance can drive manatees away from warm-water sanctuaries, often with lethal consequences. These areas must be expanded to protect wintering manatees from cold temperatures and harassment.
The public outrage following this incident has shown that people care about the well-being of manatees and support a hands-off policy. Some caring tour operators have voluntarily chosen to adopt this hands-off passive stance and are still successful in offering quality experiences observing manatees. But there are still far too many harmful harassment encounters occurring each and every day.
It is time to follow the lead of the U.S. Marine Mammal Commission and stop allowing this harassment to continue unabated. Save the Manatee Club has aggressively and consistently advocated for stricter policies and increased sanctuaries, but this disgusting letter-scraping incident further confirms that more protections are needed. All human-initiated contact with imperiled manatees needs to stop.
For more information about the work of Save the Manatee Club visit their website by clicking here.
---
Anyone with knowledge of the incident is encouraged to call the Florida Fish and Wildlife Conservation Commission (FWC) at 1-888-404-FWCC (3922). This hotline can also be used to report manatee harassment or to report injured, sick, orphaned, entangled, or dead manatees.
This is the perfect start to your 2021 diving season… and at an incredible lead-in price of just £885 per person.
Jump on board the latest addition to the Emperor fleet and enjoy diving the famous sites of the Red Sea with this fantastic special offer. This itinerary takes in the wonderful South & St Johns from 26 February – 05 March 2021.  
Subject to availability – limited flight seats at this price so don't delay!
Call Diverse Travel on 01473 852002 or email info@diversetravel.co.uk to book your spot!
More
Less