"Exposing" the Vibrant Underwater World of George Town Harbour
Large Crowd Gathers at Sunset House to Laud the Dive Sites at Risk if Cruise Dock is Approved; Presentation will be taken on the road to other districts
It was standing room only at Sunset House on Friday, July 24th for 'Exposé', an educational presentation hosted by Save Cayman. More than 140 people filled an outdoor venue with some sitting on the seawall as they listened to speakers praise the reefs and dive sites of George Town Harbour. On a big screen they watched recently shot videos and photos, taken specifically to showcase the beauty of the marine environment that is just below the surface of the water. The popular dive sites, including Soto's Reed, Eden Rock, Devil's Grotto and the historic Wreck of the Balboa, will be destroyed, or severely impacted, by dredging if the government approves a plan to build a $150 million cruise berthing facility in George Town. The actual "cost" of the proposed facility is much more. Actually, another $165 million is the value of the reef to be destroyed, as per the Environmental Impact Assessment.
Save Cayman (www.SaveCayman.org), a grassroots organization, sprang up as a result of an environmental impact study that indicated extensive damage to the dive sites. The movement started with a core of concerned individuals opposed to the project, and has gained momentum and drawn in more volunteers through social media and a local advertising campaign. The aim of 'Exposé' is to educate the public about the beauty and frailty of coral reefs and dive sites, and hopefully change minds and hearts.
"I thought it went well − we had a few glitches and technical difficulties − but the overall outcome was great," said 20-year-old Jessica Lopez, who is one of the organizers of Exposé, and a committed volunteer for Save Cayman. The water enthusiast is a force on social media, reaching out to other millennials in Cayman who will have to live with the government's decision on the dock project.
"I started snorkeling 9 months ago which turned into free diving, and ever since, I'm in the sea at least three times a week," says Lopez. "My love for the ocean and free diving has grown immensely. As soon as I heard about what was happening, I felt I really needed to do something. I don't own a boat so my options for getting out at sea is from the shore. If the harbor is ruined, where would I go free diving?!"
Friday night's event is the first in a series according to Keith Sahm, Sunset House General Manager, who is spearheading Save Cayman. Known for its outstanding shore diving, Sunset House will be affected by the silt plume that will result from dredging if the project moves ahead.
"We will be doing more presentations to various districts on the island," he says. "People who attended this first Exposé get the importance of what they are trying to do, the aim is to reach people who don't know what is underwater."
The Save Cayman campaign is making good use of social media to get its message across. A "Selfie Challenge" has just been announced to get more young people in the water. Underwater selfies can be taken anywhere from the shallow reefs at Sunset House to those in front of Pageant Beach at the south end of Seven Mile Beach. Contestants can post their selfies online at www.SaveCayman.org. Viewers will vote for the winner by liking their photos and prizes will be awarded. Participants are asked to use the campaign hashtags #SaveCayman #thereisnothingthere.
Proponents of the dock project claim there is nothing on the harbor seabed worth saving, but Save Cayman is out to prove them wrong. Jessica Lopez and fellow volunteers are using social media to help spread the word.
"Facebook has been a powerful tool in connecting the public to this matter," she said. "I feel people my age are actually interested in this matter as I've been able to show them from my underwater pictures just how beautiful it is down there."
How you can help
Go to www.savecayman.org and click on one of the two buttons under the photos to sign the appropriate petition against the destruction of these precious reefs.
About Sunset House
Sunset House/Sunset Divers has been welcoming divers to the Cayman Islands for more than 55 years. It is the only resort in the Cayman Islands, designed by divers, operated by divers, for divers. It's also the only resort on Grand Cayman that has its own coral reef, with modern and ancient shipwrecks in shallow water right off shore. Underwater visibility on Sunset House's reef can exceed 200 feet, and a remarkable variety of marine life to be seen there. Our own spectacular 9' bronze sculpture of the mermaid Amphitrite is one of the most popular shore dive sites in the world. The resort features 52 guest rooms, including 16 deluxe Oceanview rooms, 2 spacious suites and 2 apartments with full kitchenettes. All rooms are air-conditioned, with phones and private baths. Free Hi-Speed Wireless Internet can be accessed throughout the property and a convenient computer station is located in the lobby. SeaHarvest Restaurant offers full menus for some of the healthiest breakfasts, lunch and dinners around and is famous for its East Indian menu. My Bar a popular hangout for both locals and visitors, has been voted "Best in the Caribbean" by Caribbean Travel and Life and the Best of Cayman.  Sunset House also features an inviting seaside fresh water swimming pool.
For information or reservations
Call Toll Free: (800) 854-4767
On Grand Cayman: 345-949-7111
Web: www.sunsethouse.com
E-mail: reservations@sunsethouse.com
Facebook: www.facebook.com/sunsethousecayman
Twitter: www.twitter.com/sunsethouse
Save the Manatee Club respond to harassment case
The U.S. Fish and Wildlife Service began an investigation this week into an incident of illegal manatee harassment on the Homosassa River, in which perpetrators scratched the word "Trump" into the algae on a manatee's back. The politically-charged message caught the attention of the nation. Save the Manatee Club believes the case also reinforces the need for stricter regulation and increased education regarding the dangers manatees face from harassment and close human interaction.
Legally, "harassment" includes any act that potentially injures, annoys, or disturbs the manatee, or causes a disruption of its natural behavior – such as handling it long enough to scrape five large letters into its back. The offender(s) in this case clearly prevented the manatee from escaping while they did their work. Even worse, the manatee may have been in a sick or stressed state – too weak or unable to get away.
Touching or petting a manatee in the water or aboard a boat can cause the animal to become habituated to approaching people or watercraft. Throughout Florida, guides, tourists, and the general public have been told, however, that it's okay to touch manatees, as long as it's "passive," or with one hand only, or the manatee approaches you first. Unfortunately, this ill-informed approach to passive observation can lead the average swimmer, diver, paddler, or boater to believe that all manatees are fair game to touch.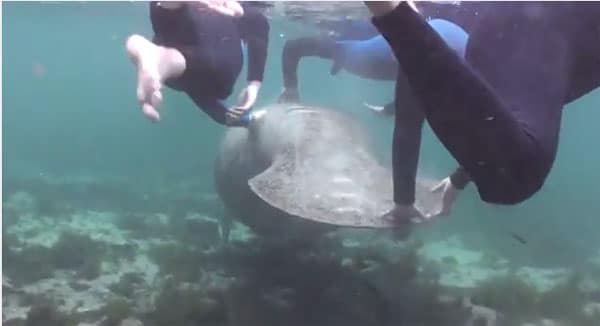 Save the Manatee Club is calling for a change in the regulations and public education on interacting with manatees to a true "hands-off," 100% passive observation as recommended by the U.S. Marine Mammal Commission. Prohibited actions must expand beyond chasing, riding, or poking and include touching and petting. These rules are already in place for whales, dolphins, and other marine mammals, but not yet for imperiled manatees who face many other threats, from watercraft collisions to the loss of vital habitat.
While some manatees are conditioned to human interaction, the vast majority of manatees tend to seek food, rest, and warmth away from people. Disturbance can drive manatees away from warm-water sanctuaries, often with lethal consequences. These areas must be expanded to protect wintering manatees from cold temperatures and harassment.
The public outrage following this incident has shown that people care about the well-being of manatees and support a hands-off policy. Some caring tour operators have voluntarily chosen to adopt this hands-off passive stance and are still successful in offering quality experiences observing manatees. But there are still far too many harmful harassment encounters occurring each and every day.
It is time to follow the lead of the U.S. Marine Mammal Commission and stop allowing this harassment to continue unabated. Save the Manatee Club has aggressively and consistently advocated for stricter policies and increased sanctuaries, but this disgusting letter-scraping incident further confirms that more protections are needed. All human-initiated contact with imperiled manatees needs to stop.
For more information about the work of Save the Manatee Club visit their website by clicking here.
---
Anyone with knowledge of the incident is encouraged to call the Florida Fish and Wildlife Conservation Commission (FWC) at 1-888-404-FWCC (3922). This hotline can also be used to report manatee harassment or to report injured, sick, orphaned, entangled, or dead manatees.
Blue O Two and their friends at WWDAS have announced their second instalment of the 21 Itineraries campaign.  It celebrates their wonderful staff contributions and highlights some of their favourite SCUBA diving liveaboard itineraries.
With many of them having an in-depth knowledge of the destinations, liveaboards and itineraries, who better to ask than the staff themselves? Some have extensive SCUBA diving experience, and others are beginners.  This helps to give every diver out there an idea of which SCUBA diving experience would best suit them.
A top destination for many, Egypt is definitely one of the favourites.  This time they focus on the Deep South itinerary, which ticks all the boxes for any diver wanting to cave dive, see thriving reefs and corals, enjoy breath-taking drop-offs, shark sightings and a vast array of marine life.
Second on their staff's SCUBA diving bucket-list this month is the Central Atolls itinerary in the Maldives.  This 7 night SCUBA diving adventure delights with an abundance of marine life, coral gardens and drift diving.  Not only is this the perfect destination for underwater photographers but you can also book yourself onto one of their PADI courses too.
Last but not least, we are introduced to the beautiful Bahamas.  Bustling with lemon sharks, Caribbean reef sharks, tiger sharks, great hammerheads, nurse sharks and the occasional bull shark, this itinerary is definitely for…  you've guessed it, those shark lovers out there.
To start ticking off SCUBA diving bucket-lists and seek inspiration, check out their website for more information here: https://blog.blueotwo.com/21-itineraries-for-2021
Blue O Two and Master Liveaboards specialise in SCUBA diving liveaboard holidays, throughout 15 destinations, world-wide.  Their specialist SCUBA diving liveaboard trips cater for all levels of diver, from beginner to advanced.  Whether you are looking for the rocky landscape of the Galapagos to the white sands and crystal waters of the Maldives, the range of itineraries catered for is vast, offering different experiences, to ensure everyone's SCUBA diving holiday needs are covered.
Visit the Blue O Two website at www.blueotwo.com
---
Header photo by Robert Wilpernig
This is the perfect start to your 2021 diving season… and at an incredible lead-in price of just £885 per person.
Jump on board the latest addition to the Emperor fleet and enjoy diving the famous sites of the Red Sea with this fantastic special offer. This itinerary takes in the wonderful South & St Johns from 26 February – 05 March 2021.  
Subject to availability – limited flight seats at this price so don't delay!
Call Diverse Travel on 01473 852002 or email info@diversetravel.co.uk to book your spot!
More
Less