Caribbean Conservation in Action: Coral Conservation during Covid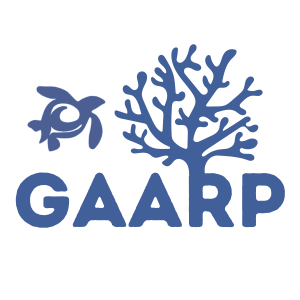 Dive Grenada started the Grand Anse Artificial Reef Project (GAARP) back in 2013 and their biggest challenge has always been time. Busy running their dive shop in Grenada seven days a week, they always felt the project was not getting the attention it needed.
The arrival of the COVID pandemic in 2020 and the cessation of tourist visitors to the island has on the upside created a great opportunity for them to be able to devote some time to developing the project.
The project is now in its eighth year and they have seen the successful growth of a plethora of marine life on the site including a wide range of corals, sponges and over 30 different species of fish. The team felt that they now had the chance to get some 'hard science' set up and running and that is exactly what they have been doing.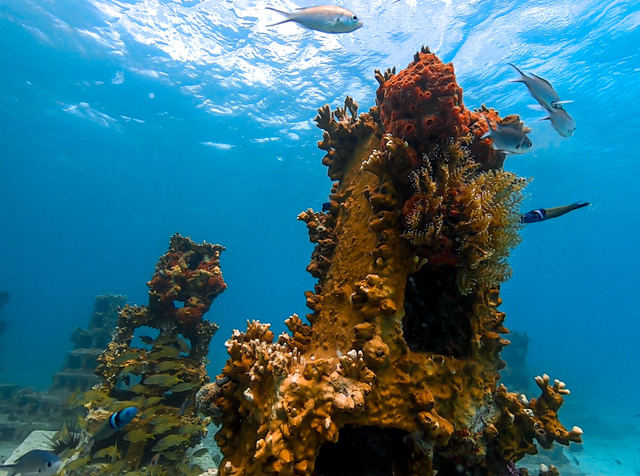 They started by simply developing an underwater identification and numbering system that would withstand the marine environment. With a locally sourced and engineered solution now installed they were ready to call in the experts.
GAARP are thrilled to now have a volunteer local scientist trained in marine biology on the team. It has been an exciting time as they have worked to develop the best surveying methodology to assess, record and monitor the marine growth development on each individual pyramid structure. He will be assisted in is work by volunteers including members of the student community from the local university.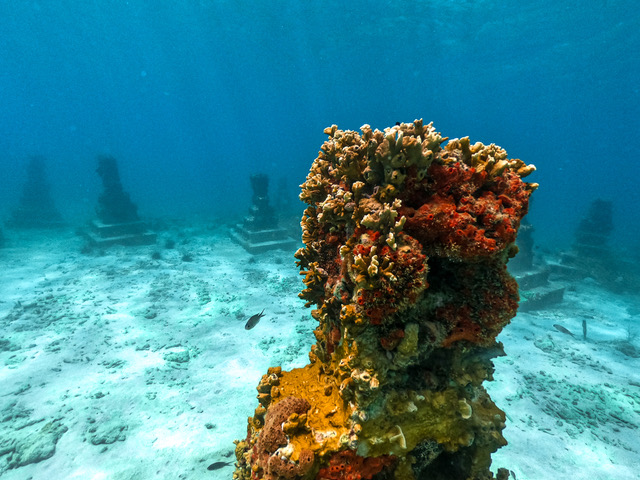 They have also used this downtime in their normal operations to reach out to like-minded environmental groups in Grenada to help them understand the issues and challenges that the marine environment is facing. Moving forward they are actively setting up collaboration partnerships with organisations and individuals to ensure that GAARP is both sustainable and meaningful to Grenada.
For more information contact Phil Saye: info@divegrenada.com or visit the GAARP Facebook page by clicking here.
Meet Parpal Dumplin – Norfolk's very own purple sea sponge named by local child
Ten years ago, in 2011, a new sponge species was identified in the North Norfolk chalk beds by Seasearch volunteer divers. In January 2021, the Marine Conservation Society's Agents of Change project invited children in the Norfolk area to name the purple sponge.
Following lockdown, the judges thought that this would be an ideal time for school children to bond, while using their creativity – with no constraints. From home schooling children to entire classes, the panel of expert judges received a fantastic response with suggestions including Norfolk Purplish Plum and Purple Stone Sticker. All entries were carefully considered by a panel of experts, looking at the creativity, suitability and usability of each name.
It was unanimously agreed that the sponge should be named Parpal Dumplin. The winning name was suggested by nine-year-old Sylvie from Langham Village School, "because the sponge is purple and it looks like a dumpling". The panel particularly liked that the spelling gives the sponge a strong connection to Norfolk.
The panel of experts deciding on the name included: Catherine Leigh, Education Adviser at Norfolk Coast Partnership, Annabel Hill, Senior Education Officer at Norfolk Wildlife Trust, Jenny Lumb, Teacher at The Coastal Federation, Nick Acheson, President at Norfolk and Norwich Naturalists Society and Claire Goodwin, Research Scientist at Huntsman Marine Science Centre and internationally renowned sponge specialist. At the meeting, the panel was supported by Seasearch East Coordinator, Dawn Watson, who recognised this sponge as special over a decade ago.
Claire Goodwin, internationally renowned sponge specialist, says: "Dawn and Rob invited me to join a Seasearch survey of the east coast, including the Cromer Shoal Chalk Beds. Dawn introduced me to a purple sponge she had noticed on the chalk reefs. We took samples, and believe it to be a species new to science, in a sub-genus of sponges known as Hymedesmia (Stylopus)."
"We need to look at specimens deposited in museums to understand how many different Hymedesmia (Stylopus) species exist in the UK and how they differ from this new species. The Agents of Change naming project has given the sponge a common name that we can use until it has a scientific one.  I loved seeing all the creative suggestions."
Sponges help to keep seawater clean by filter feeding, consuming tiny particles of food that float by. There are over 11,000 different species globally and our purple one is 'encrusting', meaning it adopts the shape of whatever it covers. It lives in Cromer Shoal Chalk Beds Marine Conservation Zone, a precious area of local seabed that needs to be taken care of.
Jenny Lumb, Teacher at The Coastal Federation, said: "Naming the purple sponge has been a fun way for children to find out about the fascinating life hidden beneath the waves. It's amazing to be given the chance to name a species that scientists and divers will use for years to come! The children are so fortunate to have the MCZ on their doorstep. They had a great time on the beach discovering some of the life there, collecting litter and finding out about this special coastal area. I am sure the children will continue to enjoy and care for the coastal environment into the future."
Catherine Leigh, Education Adviser from the Norfolk Coast Partnership said: "It was a pleasure to help decide on the sponge's name from so many fantastic suggestions submitted and I hope it will inspire people to find out more about all the incredible inhabitants of this Marine Conservation Zone on our Norfolk coastline."
Hilary Cox, Agents of Change Norfolk Coordinator, said: "Parpal Dumplin is a great choice by the decision panel of specialists:  a local Norfolk name for this newly found species in North Norfolk's Marine Conservation Zone."
Annabel Hill, Senior Education and Engagement Officer at Norfolk Wildlife Trust said: "Wonderful to be involved in the process of naming a new species of sponge, found in Norfolk from a range of fantastic creative names suggested by local school children".
You can find out more about the purple sponge, and the search for its name, by watching this animation: The seabed is a fun place to be! http://youtu.be/A_LUb8OSfn0
For more information on the work of the Marine Conservation Society visit their website by clicking here.
Save the Sharks, Save the Planet (Watch Video)
In 2020 Oyster Diving helped to train Toby Monteiro-Hourigan to become one of the youngest (12 years old) Master Scuba Divers ever. You can read his story here.
Toby has just completed this amazing 'David Attenborough' project video for his school on shark conservation. Please watch and share as it really is an eye opener in why we need to protect these incredible creatures.
Thanks to Toby and www.oysterdiving.com for letting us share this video.
Explore the amazing triangle of Red Sea Reefs - The Brothers, Daedalus and Elphinstone on board the brand new liveaboard Big Blue.  With an option to add on a week at Roots Red Sea before or after. 
Strong currents and deep blue water are the catalysts that bring the pelagic species flocking to these reefs. The reefs themselves provide exquisite homes for a multitude of marine life.  The wafting soft corals are adorned with thousands of colourful fish. The gorgonian fans and hard corals provide magnificent back drops, all being patrolled by the reef's predatory species.
£1475 per person based on double occupancy.  Soft all inclusive board basis, buffet meals with snacks, tea and coffee always available.  Add a week on at Roots Red Sea Resort before or after the liveaboard for just £725pp.  Flights and transfers are included.  See our brochure linked above for the full itinerary.
This trip will be hosted by The Scuba Place.  Come Dive with Us!
Call 020 3515 9955 or email john@thescubaplace.co.uk
www.thescubaplace.co.uk
More
Less