Aperture, Shutter Speed, and ISO for Underwater Photography
By Carlo Piscioneri, Founder of Night Sky Pix. 
When just starting out in low-light photography, trying to get your head around all the camera settings can be quite overwhelming. The purpose of this article is to get you up to speed with some of the most common terms related to camera settings, what they mean, and how they affect your images!
So whether you're trying to shoot a starry night image, or into the cool depths of underwater photography, these principles will all apply equally.

Getting Started With Underwater Photography
If you're planning on shooting underwater, getting to know your camera is extremely important. First off, to capture the best photos possible, you'll need to set your camera to (M) Manual Mode.
Auto mode is great for daytime images, but in low-light situations where the conditions can constantly change, you'll need manual mode and adjust your settings for the specific situation.
By doing this, you are taking control of your camera's settings. Regardless if you are shooting underwater or above ground, this will make the biggest difference to your images.
Throughout the rest of this article, we'll discuss the three Manual settings that all photographers need to look at when taking photos. They are aperture, shutter speed, and ISO.
Exposure Triangle
The term "exposure triangle", is the combination of the three main components of photography.
Aperture, shutter speed, and ISO. All three work together to help bring out the best in your images and will determine the overall brightness of your pics.
Once you begin to understand how the three all relate to each other, you'll have much more control of your camera's abilities and settings, allowing you to adjust to the right settings for the right situation.
Below is a breakdown of each of these terms and what they do.
Aperture
This is the first common term that you should learn in any form of photography.
Simply put, an aperture is the size of the opening in the lens.
Think of aperture as an adjustable widening and narrowing of the lens, the wider the opening, the more light will pass through and make its way to the sensor, while the smaller the lens opening the less light is allowed to pass through.
While there are many types of visual devices that use a reference of apertures, such as binoculars and telescopes, they lack something that digital cameras have, which is a diaphragm that allows you to adjust the amount of light that reaches the camera's sensor.
Camera settings with the aperture wide open allow more light into the image, resulting in a brighter photo. This is of the utmost importance when shooting in low light situations like night and underwater photography.
The aperture is measured in f-stops, a small aperture like f/1.8 is a wide opening, a large aperture like f/22 is a very narrow one.
The aperture is one of three camera settings that determine the overall exposure and brightness of an image, (how bright or dark the final image is).
Depth Of Field
The aperture also affects how much of the image is in focus (DOF). Wide apertures result in a creamy, unfocused background, while narrow apertures keep more of the image in focus.
Choosing A Higher Or Lower Aperture Setting?
Depending on the final outcome you want to achieve from photographing a scene, here are a few things to consider.
When shooting an object close up, a wider aperture will make the scenery behind the subject out of focus/blurry. This is usually performed when shooting a subject close up, like a portrait photograph.
A smaller aperture setting will allow you to achieve a broader depth of field view so you can capture a broader area of focus. This is useful for landscape photography.
Shutter Speed
The shutter speed is the setting of the camera that opens and closes the shutter to let light in and take a picture. The shutter speed indicates how long the shutter remains open, written in seconds or fractions of a second, such as 1/200 s. or 1″, where the symbol " is quite often used to denote a whole second.
If you reduce the time your camera's eye is open by half (shutter speed), you then get half the ambient light in your image.
The longer the shutter remains open, the more light is let in. So why don't we just leave the shutter speed setting as long as possible?
Because anything that moves when the shutter is open will be out of focus and blurred, and if the whole camera moves with the shutter open, the whole image will be blurred.
Does Shutter Speed Affect All The Brightness Of An Image?
Changing the shutter speed affects the ambient areas of your image. The faster the shutter speed, the darker these areas become.
What About A Flash Or Strobe?
The amount of light you get into the picture with a flash or strobe is not affected by the shutter speed, because a flash only flashes for a fraction of a second. Changing the shutter speed has no effect on how much stroboscopic light appears in your picture.
ISO
The ISO value determines how light-sensitive the camera is. For example, an ISO value of 100 means that the camera is not very sensitive – ideal for daylight shooting.
An ISO value of say, 3200 or more means that the camera will be very sensitive to light, so you can use this higher ISO value for low-light shooting. The downside to increasing your ISO value is that the higher the ISO value, the more noise you start to introduce into your images, resulting in a more "grainy artifacts" in the image.
While you still need to be careful when raising your ISO as to not introduce too much noise into your image, it's not as much of an issue as it used to be.
Older models of DSLR cameras were notorious for introducing a lot of noise into a picture but nowadays, a lot of the newer model cameras, from Canon, Sony, Nikon, etc have much better camera sensors and can handle much higher ISO levels with minimal noise in an image.
Like all things, I recommend you test the threshold of your camera to see what you're happy with when raising your ISO.
Lastly, when it comes to ISO, especially during any form of low-light photography, it is usually the last of the settings to change, as you really don't want to introduce any more digital noise into your image than needed.
Conclusion
Low-light photography does take a little more effort than regular daylight photography. You'll need to adjust a combination of the three components (exposure triangle), aperture, shutter speed and ISO to capture that perfect shot.
Hopefully this article has helped you get a bit more understanding of what those three do and why they're so important.
To learn more about night photography, visit www.nightskypix.com
---
Carlo Piscioneri
Carlo is editor in chief at NightSkyPix.com. You'll often find him in the backyard testing out different equipment or techniques to try and improve his images. He loves to write about all things night photography and can't wait to share what he has learned with you.
NightSkyPix is a site dedicated to astrophotography. When it comes to night photography, there are many, many options when it comes to equipment, configuration, and even what to shoot. Things can get complicated quickly, so the aim is to help simplify and teach readers by sharing great guides, tutorials, reviews, and resources.
Save the Manatee Club respond to harassment case
The U.S. Fish and Wildlife Service began an investigation this week into an incident of illegal manatee harassment on the Homosassa River, in which perpetrators scratched the word "Trump" into the algae on a manatee's back. The politically-charged message caught the attention of the nation. Save the Manatee Club believes the case also reinforces the need for stricter regulation and increased education regarding the dangers manatees face from harassment and close human interaction.
Legally, "harassment" includes any act that potentially injures, annoys, or disturbs the manatee, or causes a disruption of its natural behavior – such as handling it long enough to scrape five large letters into its back. The offender(s) in this case clearly prevented the manatee from escaping while they did their work. Even worse, the manatee may have been in a sick or stressed state – too weak or unable to get away.
Touching or petting a manatee in the water or aboard a boat can cause the animal to become habituated to approaching people or watercraft. Throughout Florida, guides, tourists, and the general public have been told, however, that it's okay to touch manatees, as long as it's "passive," or with one hand only, or the manatee approaches you first. Unfortunately, this ill-informed approach to passive observation can lead the average swimmer, diver, paddler, or boater to believe that all manatees are fair game to touch.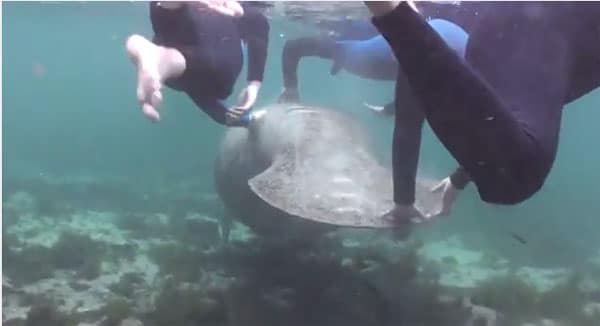 Save the Manatee Club is calling for a change in the regulations and public education on interacting with manatees to a true "hands-off," 100% passive observation as recommended by the U.S. Marine Mammal Commission. Prohibited actions must expand beyond chasing, riding, or poking and include touching and petting. These rules are already in place for whales, dolphins, and other marine mammals, but not yet for imperiled manatees who face many other threats, from watercraft collisions to the loss of vital habitat.
While some manatees are conditioned to human interaction, the vast majority of manatees tend to seek food, rest, and warmth away from people. Disturbance can drive manatees away from warm-water sanctuaries, often with lethal consequences. These areas must be expanded to protect wintering manatees from cold temperatures and harassment.
The public outrage following this incident has shown that people care about the well-being of manatees and support a hands-off policy. Some caring tour operators have voluntarily chosen to adopt this hands-off passive stance and are still successful in offering quality experiences observing manatees. But there are still far too many harmful harassment encounters occurring each and every day.
It is time to follow the lead of the U.S. Marine Mammal Commission and stop allowing this harassment to continue unabated. Save the Manatee Club has aggressively and consistently advocated for stricter policies and increased sanctuaries, but this disgusting letter-scraping incident further confirms that more protections are needed. All human-initiated contact with imperiled manatees needs to stop.
For more information about the work of Save the Manatee Club visit their website by clicking here.
---
Anyone with knowledge of the incident is encouraged to call the Florida Fish and Wildlife Conservation Commission (FWC) at 1-888-404-FWCC (3922). This hotline can also be used to report manatee harassment or to report injured, sick, orphaned, entangled, or dead manatees.
Blue O Two and their friends at WWDAS have announced their second instalment of the 21 Itineraries campaign.  It celebrates their wonderful staff contributions and highlights some of their favourite SCUBA diving liveaboard itineraries.
With many of them having an in-depth knowledge of the destinations, liveaboards and itineraries, who better to ask than the staff themselves? Some have extensive SCUBA diving experience, and others are beginners.  This helps to give every diver out there an idea of which SCUBA diving experience would best suit them.
A top destination for many, Egypt is definitely one of the favourites.  This time they focus on the Deep South itinerary, which ticks all the boxes for any diver wanting to cave dive, see thriving reefs and corals, enjoy breath-taking drop-offs, shark sightings and a vast array of marine life.
Second on their staff's SCUBA diving bucket-list this month is the Central Atolls itinerary in the Maldives.  This 7 night SCUBA diving adventure delights with an abundance of marine life, coral gardens and drift diving.  Not only is this the perfect destination for underwater photographers but you can also book yourself onto one of their PADI courses too.
Last but not least, we are introduced to the beautiful Bahamas.  Bustling with lemon sharks, Caribbean reef sharks, tiger sharks, great hammerheads, nurse sharks and the occasional bull shark, this itinerary is definitely for…  you've guessed it, those shark lovers out there.
To start ticking off SCUBA diving bucket-lists and seek inspiration, check out their website for more information here: https://blog.blueotwo.com/21-itineraries-for-2021
Blue O Two and Master Liveaboards specialise in SCUBA diving liveaboard holidays, throughout 15 destinations, world-wide.  Their specialist SCUBA diving liveaboard trips cater for all levels of diver, from beginner to advanced.  Whether you are looking for the rocky landscape of the Galapagos to the white sands and crystal waters of the Maldives, the range of itineraries catered for is vast, offering different experiences, to ensure everyone's SCUBA diving holiday needs are covered.
Visit the Blue O Two website at www.blueotwo.com
---
Header photo by Robert Wilpernig
This is the perfect start to your 2021 diving season… and at an incredible lead-in price of just £885 per person.
Jump on board the latest addition to the Emperor fleet and enjoy diving the famous sites of the Red Sea with this fantastic special offer. This itinerary takes in the wonderful South & St Johns from 26 February – 05 March 2021.  
Subject to availability – limited flight seats at this price so don't delay!
Call Diverse Travel on 01473 852002 or email info@diversetravel.co.uk to book your spot!
More
Less